Joined

Apr 10, 2014
Messages

4,192
Points

83
Sergio Oliva Jr
seems to be having a little feud with Victor Martinez and others about Sergio winning the 2017 New York Pro.
From Sergio Oliva Jr's Instagrahm: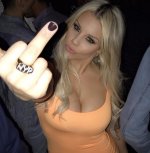 Apparently, some people aren't over the NY Pro and still talking shit so here's my response. YOU MAD BRO?
Here are Sergio and Victor going back and forth.. It gets pretty bad.
ifbb victor martinez:
And all this time I thought you was a humble dude! @sergioolivajr I think you talking way too much and soon you will be shut. Not by me but the others you are disrespectful to. You say you don't want to be in your dads shadow but that all you have been. You should have learned one thing from him and it's not the myth pose but his respect for other hard working pros. #fakehumble
sergio oliva jr to ifbb victor martinez:
you don't even know who this is about Vic! This is about people who attack my wife and me from behind a computer. And for you to come at me through a comment on my post shows that your the ignorant one. This is how pussies handle shit you coulda called or texted me and I woulda let you know what and who this post was about. Your talking out your ass and you need to realize you don't know everything.
sergio oliva jr to ifbb victor martinez:
go back and read all my replies sticking up for juan and jon and telling people on here it has nothing to do with anyone who competed. You just handled this very poorly and should be ashamed of yourself and to attack me about my father too!?? Wow vic maybe you should've learned something from my anther too and not talk about shit you have no idea or business about.
I'm saying I'm in shock. Any one who knows me knows I'm the biggest Vic fan and even told jay and his friends Vic is an uncrowned Mr.O…..So now when I finally get back to my wife and she can see the ring for the first time and spend time together we wanted to send a message to all the haters who don't like us being happy and root and pray we fail just to see us prevail but to have someone like @ifbbvictormartinez come at me without just asking me first or at least giving me some advice privately like a veteran pro should is crazy but to say I'm in my father shadow just turned him into every other loser ass troll who even tho we have the same ring could lower himself to that level. I can't even snap on him cause he literally is one of my favorites Ever! What a blow this is to me
fbb victor martinez to Sergio:
Hold on to your little ballsack guys I was a little beside myself and take back what I said to @sergioolivajr but only about his father because after all he is a god in bodybuilding and to all latinos in the world so my bad. My purpose was just to let him know to respect the winner but most of all the ones you have beaten and the ones you thought you could have beaten. Say goodnight to the bad guy!

Last edited by a moderator: