Administrator
Staff
VIP
Member
Joined

Mar 7, 2008
Messages

21,437
Points

48
Let's get it on with the next stage of the Top 6 Guess Game!
Remember the scoring:
1st place - 7 points
2nd place- 6 points
3rd place - 8 points
4th place - 8 points
5th place - 6 points
6th place - 5 points
Whoever guesses the top 6 in order gets a bonus of 15 points.
List of the competitors.
Edit: Baito Abbaspour is in the 212's. This is not the final updated list.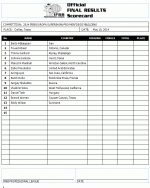 Check out the standings:
https://musclemecca.com/showthread....a-Top-6-Guess-rules-amp-standings-thread-2014
Good luck & Have fun!