tkD
Administrator
Staff
VIP
Member
Joined

Mar 7, 2008
Messages

21,323
Points

113
Hi guys,
in this thread I will post all the results from the 2018 WSM, info about the events, qualifiers and videos / pics.
If you have any info feel free to post it.
Alright, so the
2018 Wold's Strongest Man
will take place in Manila, Phillipines.
Qualifiers
: April 28 - May 01 in Manila, Philippines
Finals
: May 05 - 06 in Manila, Philippines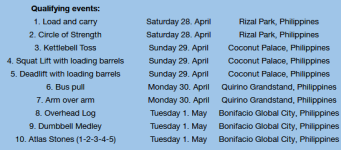 These were the groups in the heats / qualifiers, and the top 2 in each group advanced in the finals. This year the "special rule" was that if the guy in the 3rd place beat the guy in the 2nd place in the last event aka the stones, then he would be the one to advance in the finals, no matter the point difference between 3rd vs 2nd.Pretty shitty rule if you ask me, but hey what do I know.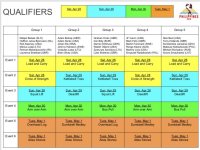 Here you can find the spreadsheets with all the results (times, reps, etc) for each group in the heats:
https://docs.google.com/spreadsheet...pb6iFH6DVbu73et8fysVp-85LQ/edit#gid=503295881
Some of the videos from different events of those who already qualified: