Joined

Aug 27, 2007
Messages

563
Points

16
The Dominican Dominator's Back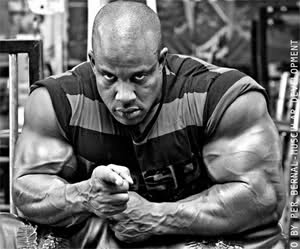 Victor Martinez's passion for muscles started at an early age when he read comic books and spent a lot of time drawing super heroes with large muscles. The Incredible Hulk and wrestling's Hulk Hogan were among his favorites to sketch.
As a teenager Martinez was always competing in sports such as baseball, basketball, football, and tennis. Weight training was an easy transition for him to make, and bodybuilding was the natural next step. By the age of 24 Martinez won his first amateur bodybuilding contest, six years later he won his first professional contest. He's competed at the
Arnold Classic
four times, bettering his placing each time and in 2007 he won first place. Now he's considered by many as the favorite to win the 2009 Arnold Classic.
Martinez took 2008 off from competition due to an injury to his knee he received while training. "It's difficult to make a comeback after an injury. I had to change my training habits and restructure my workouts. I'm not afraid to try new creative things. I stay positive and know I'll overcome the challenge," Martinez said.
When asked what other sports going on at the Arnold Sports Festival interested him Martinez quickly admits he enjoys martial arts. "Successful bodybuilders and martial artists need the same high level of discipline," he says. "I like watching (mixed martial arts fighters) Wanderlei Silva and Quinton 'Rampage' Jackson because of the energy they have in the ring," he added.
In his free time Martinez enjoys spending as much time as he can with his three children. They enjoy going on walks, trips to the zoo and the park, and eating 'right' together. His two sons are autistic and he recently announced his association with the Athletes Against Autism and the Cure Autism Now Foundation. "I like doing anything I can to help raise autism awareness. Someday I'd like to hold a bodybuilding event where all the proceeds go to autism research," he said.
Martinez is also an entrepreneur. He's opening a health food restaurant in his hometown of Edgewater, New Jersey called the Muscle Maker Grill. He says the idea came from going to restaurants and always having to explain how to prepare his food in a more healthful way. "Eating right changes everything. My restaurant will have tasty, healthy food, at an affordable price," he said.
Martinez had some advice for those who sometimes find it hard to get off the couch and stay motivated to be fit. "At first set small obtainable goals, say to yourself today I'm going to do this, and do it. Getting a training partner can be the best thing to help keep you motivated and push you to do your best. Also, change up your workouts and cross train so your workouts stay interesting. Give it some time, like Arnold says, if you're disciplined and put in the time you'll see results."
Source:
https://arnoldsportsfestival.com
Last edited by a moderator: