Joined

May 20, 2007
Messages

5,514
Points

38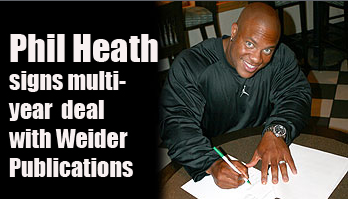 Phil Heath inks multi-year deal with Weider Publications
by Allan Donnelly
May 3, 2008
FLEXONLINE.COM
Phil Heath, one of bodybuilding's biggest and brightest stars, signed an exclusive multi-year publishing contract with Weider Publications on Saturday. The 28-year-old Heath made it official while in town for a guest posing appearance at the Pittsburgh Pro Figure Championships.
Heath burst onto the bodybuilding landscape in 2005 by winning the overall titles at both the NPC Junior Nationals and the NPC USAs. He inked his first contract with Weider Publications after being approached by FLEX Group Editorial Director Peter McGough before the Junior Nationals. His impressive showing at the USAs led some observers to crown him as a Mr. Olympia in waiting. Since turning pro three years ago, Heath has done nothing to temper those expectations. In five professional contests, Heath has notched three wins - at the New York Pro and Colorado Pro in 2006 and the Ironman Pro in February of this year - and has never failed to finish in the top five.
Although he has qualified for the Olympia for the past two years, Heath has yet to set foot on the sport's biggest stage. But Heath made that official on Saturday as well, signing a contract to compete in the 2008 Olympia at the Orleans Arena on September 26-27.
PHIL HEATH CONTEST HISTORY
2003
NPC Colorado , 1st light-heavyweight
2004
NPC Colorado State, 1st Heavyweight and Overall
2005
NPC Junior Nationals, 1st Heavyweight and Overall
NPC USA Championships, 1st Heavyweight and Overall
2006
Colorado Pro Championships, 1st
New York Pro Championships, 1st
2007
Arnold Classic, 5th
2008
Ironman Pro Invitational, 1st
Arnold Classic, 2nd