Joined

Apr 10, 2014
Messages

4,204
Points

83
Jeff Horn is amazing and so is his trainer Glenn Rushton! Jeff Horn vs Manny Pacquiao...who wins?
Building a champion: the men behind Jeff Horn's incredible transformation
Grantlee Kieza, The Courier-Mail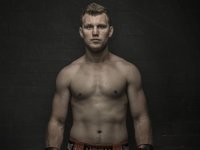 Blood, sweat and tears in Horn's prep. Picture: Peter Wallis
JEFF Horn goes into the Australia's biggest ever fight against Manny Pacquiao at Suncorp Stadium next week armed and dangerous with years of mental and physical armoury welded onto his 66.7kg frame.
His transformation from bullied schoolboy with suicidal thoughts to world title challenger is a testament to the power of the human mind and the ability of the human body to shed one skin in favor of a stronger one.
Boxing webpromo 650x100.jpg
For the first time The Sunday Mail can reveal the torturous training regime Horn has undergone over the last four years of his professional career in order to have the physical equipment to overcome one of boxing's greatest ever champions.
Pacquiao has won 11 world titles across eight weight divisions but Horn says his boxing trainer Glenn Rushton and his strength and conditioning coach, Korean-born Dundee Kim, have him ready to score a huge upset on one of Australian sport's biggest days.
UNDERDOG: Jeff Horn is the real Rocky Balboa
FENECH: 'just bash the bloke, Jeff'
PREVIEW: Ultimate Guide to Pacquiao-Horn
WEIGHT: Horn's huge advantage over Pacquiao
"I believe I can do this and I know my preparation has been spot on,'' Horn said.
"My trainer Glenn Rushton is the guy who taught me how to throw a punch, how to make a fist, how to make someone attacking me miss with their punches. And Dundee Kim has put the muscle and strength on me which I know can overcome anything Manny Pacquiao throws at me.
Blood, sweat and tears in Horn's prep. Picture: Peter Wallis
"I know Manny hasn't been training with the same intensity as me. He's had huge success over 20 years and after a while that can make you less hungry. I have everything I need to win this fight and bring the world welterweight title to Australia.''
Horn walked into trainer Glenn Rushton's Stretton mansion 11 years ago to learn self-defence because he was being bullied at school.
The idea that the nerdy kid, unsure of himself and unable to throw a proper punch, would one day fight before a massive crowd at Suncorp Stadium was Twilight Zone material.
But Rushton saw something in Horn early, a spark of greatness and it's grown into a fire.
Battle of Brisbane: Who is Jeff Horn?
"Toughness isn't about how many tattoos you've got or how you act or how big you talk,'' Rushton says. "It comes from belief in yourself and Jeff has developed that through a positive focus and years of hard physical and mental training.
"I sent him to Dundee Kim to strengthen his back, shoulders and arms. I did bodybuilding myself for 10 years and I know the benefits of weight training for boxers.
"Dundee's gym also gave Jeff a change of scenery from my boxing gym and it kept his training fresh.''
Horn began training with Kim four years ago, undergoing two weekly training sessions of almost two-hours each to build up his chest and upper-back and to add muscle to a punch that had already taken him to the 2012 Olympics in London.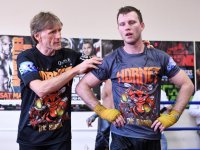 Trainer Glenn Rushton (left) puts his charge through a gruelling session.
"We have achieved what we wanted physically,'' Kim said. "Jeff has the muscle mass and the conditioning but also the speed. We worked a lot on his fast twitch muscles and his reactions with punching pad work. Putting together really fast combinations. We've worked on building a boxer who punches very fast but with a lot of power.
"We do 10-12 rounds on the bag or punching pads, in out, in out, very fast hands.
"Jeff is very strong. He has great footwork. He's moving really well and his right hand and left hook are tremendous. One good punch on the chin from him and Manny Pacquiao is out.
"Manny is a great boxer and we can't underestimate him. But we know Jeff has worked much harder than him for this fight.''
Horn says he has "loved'' every minute of his strength and conditioning work with Kim, even though it's often been torture.
"I love coming to Dundee's gym because it's always a big challenge,'' Horn said. "I've overcome every tough challenge he's given me and now I'm jumping out of my skin for the biggest challenge of my life.''
News Source:
http://www.couriermail.com.au/sport...n/news-story/e59d4d442a46599e7d8f357864303138