Daniel Andersson
Mecca Mod (not)
VIP
Joined

Oct 30, 2006
Messages

8,470
Points

38
T-70 (Autonomous Infantry Unit)
Production Date: Prototype only, prior 2004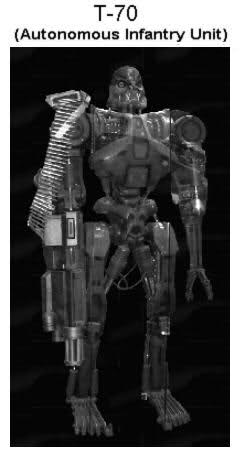 At the time of its creation, the T-70 was a show-piece of CRS' (Cyberdyne) greatest technological achievements. Its artificial intelligence and bipedal locomotion were unprecedented. These state-of-the-art prototypes were used to impress prospective investors and people interested in military contracts. All of the principles of the T-70 design were later implemented by Sky-Net in its T-400 through T-900 Terminator series.
When Sky-Net actively started its military campaign against man it only had a handful of these experimental prototypes and it could not spare the resources to make more of them or other T-70 quality androids until it had more resources and factories. This forced Sky-Net to use cheaply constructed androids such as the anthropomorphic T-200 and the savage T-300. Sky-Net considered its T-70 androids too precious to be used on the battle field. The existing T-70s were used to guard important installations. By the time Sky-Net had the resources and space to begin producing serious Terminator warrior / infiltrates, many aspects of the T-70 design were outdated (such as their primitive CPU) and so they were never actually used by Sky-Net on a large scale. However, the principles of their battle chassis construction are seen in all of the Terminator series from T-400 through T-900.
CAMOUFLAGE:
The T-70 stood a conspicuous 8 feet tall and was 4 feet wide. It wasn't designed for stealth or infiltration. It was designed to be used on the battlefield as a soldier.
INTELLIGENCE:
The CPU of the T-70 was only slightly more advanced than the T-100 or the T-200. It could be controlled directly or set to autonomous mode. It was incapable of learning. Its combat subroutines were not very advanced although Sky-Net could upload more advanced programming to these androids later.
STRENGTH, DURABILITY, MANEUVERABILITY
The body of the T-70 was much like that of the later Terminators such as the T-500 in terms of maneuverability and dexterity. Physically it was capable of lifting several times its own weight and even a glancing blow from it would maim or kill a human.
However, its battle chassis was designed with ordinary materials and industrial metals, not with hyper alloy titanium. It was not resistant to plasma phase weapons and heavy conventional artillery could damage it. It was far more durable than at T-200 though.
WEAPONRY
Compared to later models this is a major short-coming of this unit. It was armed with specially designed high velocity gattling guns, but could only carry so much ammunition. It could be armed with light plasma phase weapons, but to do so its finger configuration had to be modified.
WEAKNESSES
The T-70 had a primitive, reptilian like, artificial brain making it easy to outsmart. It was not resistant to plasma phased weapons.
T-100 (AKA T-1; Autonomous Ground Offensive System)
Production date: Prior to 2004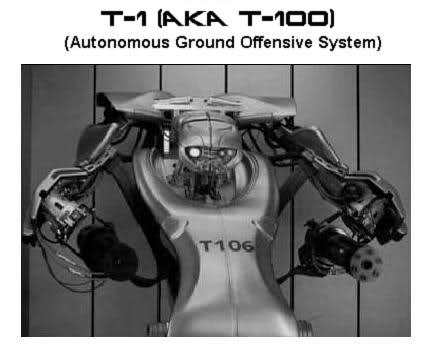 The T-100 was developed by Sky-Net when it served as an artificial intelligence tool of the company known as Cyberdyne or (CRS). Its technology is based on the recovered research of late Dr. Miles Bennet Dyson that was at one time thought destroyed by "terrorists". It had an insect like brain, was autonomous, heavily armored, and carried twin high velocity gattling guns. As several thousand units had already been created by the time of the nuclear holocaust, Sky-Net immediately had its first recruits for a new army to deploy against humanity in the aftermath of the world-wide atomic carnage. Unlike, the T-70, the T-100 utilized cost effective materials and was easier to produce on a mass scale, and thus humans after the holocaust became quite familiar with them.
CAMOUFLAGE
The T-1 (or T-100) was about as well camouflaged as an elephant at a tea party. These mechanical creatures stood nearly 9 feet tall and weighed at least a ton each. The T-100 was not bipedal, it utilized treads to haul around its enormous mass, and therefore it was inevitably conspicuous.
MANEUVERABILITY, SPEED, STRENGTH, DURABILITY
Though not particularly fast or maneuverable, the T-1 could tread over rugged terrain, was highly fuel efficient, and durable to conventional fire power. It was not bipedal as the T-70 prototypes, but utilized tank like treads.
It had a primitive sensory array similar to that of the T-400. It seemed to detect motion more than actually discriminate specific targets.
INTELLIGENCE
The T-1 had an insect like brain that only utilized very primitive aspects of the neural net processor envisioned by its late creator. However, the units could be controlled directly by Sky-Net, at which time they were capable of sophisticated, organized behavior. Autonomously, they were essentially giant aggressive insects that would aggressively pursue and destroy anything in thier path once activated.
WEAKNESSES
Though highly durable, the T-1 had certain areas, such as its treads, were its hydraulics were exposed making it vulnerable to precise hits by enemy weapon fire.
It was also stupid and dangerous to other terminators, as its primitive brain was not powerful enough to discriminate between targets.
WEAPONRY
Although the weaponry of the T-1 is primitive by Terminator standards, it had plenty of it. It carried twin high velocity gattling guns and stored a great deal of ammo within its heavily armored chassis.
T-200 (Retrofitted NORAD Maintenance Droid)
Production date: Prior to 2016

Also known as simply the T-20, the T-200 represented the first anthropomorphic Hunter Killer (HK) design by Sky Net. They were produced in the thousands and were puny by later standards. These Terminators were based on schematics of NORAD maintenance droids, and in some cases were actually the original NORAD droids retrofitted with new components and memory instruction sets. In many ways these were the first real terminators. The production files for more advanced Terminators existed in Sky-Net's database, such as the T-70, but the elements of those designs could not be utilized on a useful scale until Sky-Net had dominance of the Earth's surface and access to the resources necessary to utilize those plans and the time to conduct scientific tests to perfect models incorporating them. The strategic superiority to achieve such an end did not occur until the introduction of the T-600. Therefor the only model of android that Sky-Net could use to hunt humans in their own territory was the T-200 (prior to the introduction of the artifically intelligent human replicas known as the T-600 series).
CAMOUFLAGE
The T-200 was roughly humanoid in shape. It could easily be distinguished from a human under most conditions. However, it was small enough to be disguised as a human for the purpose of ambush. It was often sometimes issued with a crude ballistic clothe which also made it difficult to discern from a person under conditions of poor enough visibility. The T-200 had no artificial musculature and very primitive and streamlined hydraulic systems, so even with clothing it looked more like a "scare-crow" than a person, thus the resistance nickname. It was also known as the "stickman" or "tin man". However, the head and sensory array of T-200 was decidedly inhuman and from any distance where this is visible it is given away. The use of a T-200 as an infiltrator was not very effective for these reasons. A common nickname by the resistance for a team of T-200s searching for humans among the ruins was a "roach patrol". Whether this is a reference to the conspicuous sensory array of the T-200 or its primative brain is hard to say.
MANEUVERABILITY, SPEED, STRENGTH, DURABILITY
The T-200 had very rigid posture and limited range of bodily motion. Its tactile dexterity and visual acuity was superior to any Terminator previous to the later T-600 class. It was also extremely delicate. Even a near miss by a large caliber weapon near the array could incapacitate the T-200. The armor of the T-200 was laughable. Hyper alloy construction had yet to be perfected at the time of the T-200 and good materials were scarce. Therefore the armor of the T-200 was ceramic plated in nature and offered little resistance to conventional weaponry. A T-200 was physically much stronger than a human, but a blow to the sensory array could disable it.
The T-200 was equipped with night vision.
INTELLIGENCE
The typical T-200 was issued with a primative brain. Though capable of carrying out minute and complex tasks, its ability to perform in autonomous mode was limited to the subroutines of its instinctual memory database and to new instructions uploaded to it by Sky-Net. The T-200 was useful for many years after its introduction due to its ability to occupy areas used by the resistance and utilize resistance weaponry and machines. When the units became obsolete, Sky-Net simply stopped communicating with them resulting in many T-200s that remained at their posts motionless for decades (in a passive mode conserving energy indefinitely), awaiting instructions that would never come, or activity by humans which they would then attempt to eliminate. The T-200 brain was incapable of storing any knowledge that might present a security risk to Sky-Net and its technology was already inferior to that possessed by the resistance, so Sky-Net saw no threat to allowing the units to continue to exist and did not assign newer Terminators or HKs to eliminate the remaining Tin Men.
Later models derived from the T-200 architecture, such as: the T-202 (circa 2017), and the T-204 (circa 2018) had advanced artificial intelligence and served as maintenance technicians and some were directly controlled by Sky-Net, acting as its eyes and hands. They had no combat programming and were never encountered by humans. These models continued use until the final victory when 99 percent of them stopped functioning with the fall of Sky-Net.
WEAKNESSES
Though in the beginning of the war between man and machines the T-200 was a terror to behold, by the time the resistance began forming, the T-200s were hunted by humans for their parts and armor which could be recycled. Their weaknesses and short comings compared to later models are almost too numerous to list.
WEAPONRY
T-200s were not issued with very powerful weapons. Usually they were only issued with conventional weaponry. GE Plasma rifles were sometimes carried, but the more powerful plasma rifles were too much for the little Tin-Men to handle.
KNOWN VARIATIONS
Upgraded versions of the T-200 were produced: the T-202 and T-204. These variations had more intelligence and mechanical skill, no combat abilities, and were not encountered by humans during the war. The T-204 sometimes came on treads instead of legs and had 4 arms.
T-300 (Series 300 / Fast Walker)
Production date: Prior to 2016.
Also known as simply the series 300, the T-300 was actually not humanoid, but it was bipedal and possessed very rudimentary AI, and so arguably fits into the category of a humanoid hunter killer (Terminator). It was a walking weapons platform on two legs that could balance itself on one leg to perform labor or mechanical tasks. Nicknamed the "Raptor" by the resistance. Standing 2.5 meters tall, it resembled a very angry giant chicken with a plasma gun in its mouth. About as intelligent as a dog, and with a similar feral and rabid personality. These were highly durable and motivated soldiers. Their function was primarily to serve as sentries and to hunt and eliminate humans.
CAMOUFLAGE
The T-300 was conspicous, but it was also cunning and could ambush resistance forces by hiding in rubble. However, it had no real camouflage.
INTELLIGENCE
Sky-net did not yet have the superiority in numbers to secure the resources it needed to test advanced terminator prototypes at the time of the introduction of this unit. As such, the T-300's CPU, though it did incorporate elements of cyberdyne artificial intelligence, was only about as sophisticated as the mind of a dog; obedient and able to follow simple instructions. T-300s were capable of hunting in packs (similar to wolves) and of cooperating with each other for common goals.
DURABILITY, SPEED, STRENGTH, MANEUVERABILITY
The T-300 was incredibly fast, maneuverable, and resistant to conventional artillery. Later high powered plasma phase weapons did pose a threat to it, and its great size limited its ability to follow humans. Its appendages were enormously strong and it could kill a human with a glancing blow, or slice a human in half with a swipe of a talon. It was about 2.5 meters tall.
WEAPONRY
The T-300 was armed with an internal mounted and stabilized Westinghouse M25A1 Phased Plama Rifle, which was linked directly to the T-300's internal power supply (a miniature reactor) thus allowing indefinate firing potential. The weapon was in locked position and the T-300 had to face directly at its target to shoot at it. The T-300 was capable of firing its weapon accurately while running at full speed.
WEAKNESSES
Despite being limited in its uses, it was a very effective guard dog. Yet, in later years its armor did not prove to be not particularly resistant to plasma phase weapons and the T-300 was relatively dumb and could be trapped and baited into dangerous situations easily. Its aggression was also impractical in many ways as the T-300 tended to prefer tearing humans apart over blasting them which is more effective and exposes the unit to less jeopardy.
T-400 (Humanoid Terminator)
Production date: 2018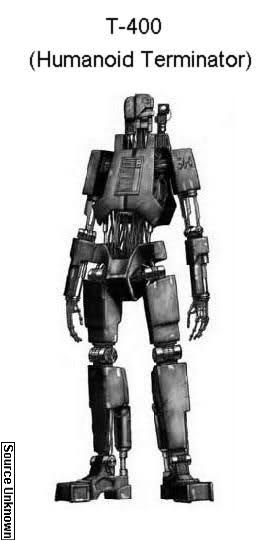 The T-400 series was an experiment by Sky-Net that attempted to emulate the size, shape, range of motion, and mobility of a human. Though not particularly effective, its cheap construction made it Sky-Net's best option at the time of its conception and continued to be produced for 6 years. It was produced in large numbers to fill positions in ground forces and later it was relegated to security detail in prison camps where some old models still existed at the time of the Great Victory. Though designed as a soldier, its ineptitude upon its initial deployment quickly relegated it to the function of clearing resistance camps and bases after a successful attack by more effective non-humanoid HKs. It was perfect for this function and so cheap (as in materials) and expendable that Sky-Net kept producing the series. The T-400 stood about 7 feet tall and weighed a quarter of a ton. It represented a very cheap and scaled down extrapolation of the principles of the T-70 design.
CAMOUFLAGE
The T-400 was roughly humanoid in shape, but only remotely so. It could easily be distinguished from a human at any time present on the battlefield or in any other setting. It was not intelligent enough to make use of the terrain or hide itself. It was too large to access many areas easily accessible to humans and had limited range of motion. A giant, red glowing optical sensor also did not help it, as this offered a target for human snipers to easily remove its head with ballistic projectiles. The use of a T-400 as an infiltrator was not possible for these reasons.
MANUEVERABILITY, SPEED, STRENGTH, DURABILITY
Though too large to enter many areas easily accessible to humans, it was able to combat humans in the battlefield effectively if given adequate instructions by Sky-Net, and a great advantage in numbers. It had no trouble traveling over most terrain. The T-400 was heavily armored and more resistant to damage than the T-200, but the hyper-alloy construction of later models was not perfected yet, so its durability came at the price of speed and reaction time and was inferior to all later models. This model had several areas where wiring was exposed, that when hit by enemy fire in precise locations, disabled the unit. The armor offered no resistance to plasma weapons and rusted. The T-400 was physically strong, enabling it to lift somewhere in the range of 1000 lbs. The unit could easily beat a human in combat, unless the human was intelligent enough to take advantage of the unit's limited range of motion and balance. The sensory array of the T-400 reflected Sky-Net's intention for the unit (a limited, but expendable soldier). It had one primitive optical sensor.
INTELLIGENCE
The T-400, along with its predecesser; the T-300, utilized the first true artificially intelligence offered by Sky-Net. However, this intelligence was limited compared to later models. The T-400 had enormous difficulty at battlefield improvisation. If confronted with targets coming from multiple directions, the CPU of the T-400 was known to crash, causing it to stall in mid-combat. Observation by resistance of this model would seem to indicate that its reasoning capacity (aside from the complex battle subroutines the model was issued with) was similar to that of a slow-witted human child, or even an ape. It had enough intelligence to shoot straight, follow simple orders, hunt and eliminate a target, and to discriminate between different targets.
WEAPONRY
The T-400 was issued with a light shoulder mounted plasma cannon. As with the T-300, this rifle was fused in a locked position and the T-400 had to be directly facing its target to hit it.
WEAKNESSES
The T-400 was stupid, predictable, and easily trapped or outmaneuvered. It was vulnerable to plasma weaponry. Sharp shooters who knew of T-400 weak points easily disabled the units with mere conventional weaponry. Its reaction time was slow and it was incapable of adapting to changes on the field of combat.
T-500 (Humanoid Infantry Unit)
Production date: 2020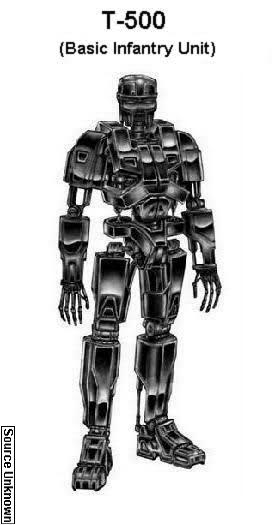 Mass produced in several different models and variations for the next several years. Numbering in the hundreds of thousands, each new model of T-500 was more compact and humanoid in structure than the one that preceded it. Standing 6'6", the T-500 was a closer approximation of a humanoid form and could thus venture into areas previously inaccessible to Terminators. Physically much faster and more agile than previous Terminators. Capable of tactile dexterity and visual acuity similar to humans. This was the first Terminator endoskeleton. It was superior to its predecessor, the T-400 in every way. Upon its first deployment, the human population suffered casualties probably reducing the surviving population by a tenth.
CAMOUFLAGE
The T-500 presented a smaller target than its predecessors. Due to its human shape and outline it also was difficult to distinguish from a human at distances, which confused human snipers. In the last days of this series, Sky-Net began encasing the models in crude latex rubber in an attempt to allow them to penetrate human camps. This did not work very well. Out-fitted with clothes the T-500 did look like a human from a distance, but their massive and robust dimensions made clothing them difficult.
MANUEVERABILITY, SPEED, STRENGTH, DURABILITY
One of the problems with previous terminators was their lack dexterity, and their inability to enter human settlements due to size constraints. To solve that problem Sky-Net based the T-500 endoskeleton on the human body. The T-500 hyper alloy combat chassis had the full range of human motion and mobility, with superhuman strength, inhumanly fast reaction time, and speed beyond human capabilities. A T-500 could press (lift) over a ton and kill or mame a human with just a glancing blow. The result of this was a soldier that could operate human machinery and weaponry and follow humans into their camps to exterminate them. Unlike the T-400, all of the T-500's wiring was carefully shielded by its hyper alloy armor chassis, which was constructed from new techniques in metallurgy and servo-mechanisms that had not been feasible to implement do to material constraints at the time of the creation of the T-200, T-300 and T-400.
INTELLIGENCE
The CPU of the T-500 was more advanced than the T-300 or T-400. Its microprocessor was powerful and it came with vast preprogrammed combat subroutines for tactics in a myriad of hostile conditions. Its mind could accurately calculate distance relative to itself, calculate accurate trajectories for projectiles, and even perform delicate maintenance functions if Sky-Net uploaded the appropriate files to it. However, as its CPU was set to read only, the T-500 was incapable of learning and though its combat subroutines were highly advanced, in time the T-500 became predictable. It had an autonomous mode and a mode where it was controlled directly by Sky-Net or a Centurion supervisor.
In some experimental variations of the T-500 the read-write capacity for the CPU was enabled allowing for rudimentary intelligence. Outside of the complex behaviors programmed into it, such a machine was no more intelligent than an ape and often behaved like one; aggressive, feral, and brutish (see T-500R).
WEAPONRY
The T-500 was issued with several different models of light plasma phase weapons.
WEAKNESSES
Among the weaknesses of the T-500 were its lack of camouflage, and its inability to adapt to changing conditions due to its restricted learning capacity. Members of the resistance who had observed T-500s could easily trap and deceive them. It was also too small and frail to utilize the more sophisticated plasma weapons developed by Sky-Net in the last years of the model's production.
KNOWN VARIANTS
There were several experimental variants of the T-500: the T-500S, T-500T, T-500I, and the most infamous being the T-500R. The latter is often confused with the T-600G. Most of these variants were created some time after the production had been halted on the model. It is suspected that many of these variations were simply modified by Sky-Net from the existing stock of T-500s. They were significantly different from the model they are derived from and will be detailed in a separate entry.
T-600 (Human Mimicking Infiltrators)
Production date: 2022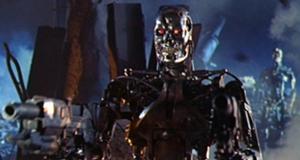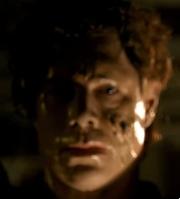 This unit had a one time mass production of several thousand numbers. Theoretically, the T-600 should have exceeded the efficiency and tactical superiority of Sky-Net. However, this was not the case. They were human in appearance, highly intelligent, and behaved erratically. Had the T-600 been an automobile, humans would have called it a "lemon". However, the T-600's continued to be used for battlefield purposes up until the final defeat of Sky-Net.
CAMOUFLAGE
The T-600 chassis evolved from the T-500 series to resemble the actual human skeleton, rather than just a rough approximation of a humanoid skeleton. This allowed the T-600 to be encased in latex rubber skin with foam padding in order for it to appear human and infiltrate human camps. However, the skin was not realistic looking and often faded to strange colors (even green) or bleached white with just limited exposure. Neither did the T-600 possess an underlying artificial musculature (beyond padding where muscles would be on a human body), granting it no real range of facial expressions. From a distance or in the dark, the units did pass for human, allowing Sky-Net the element of surprise for a brief time.
MANUEVERABILITY, SPEED, STRENGTH, DURABILITY
The T-600 was a much more maneuverable and agile unit than the T-500, though to reduce surface area, its hydraulics and armor had to be streamlined making more easily damaged than its precursor, particularly in the chest area. Yet, it could lift in excess of 2000 lb. and punch through solid walls. This trade off would later be unnecessary in later Terminator series due to advances in metallurgy and mechanics. Being lighter than the T-500 there was less stress on its internal servos allowing it to run at constant high speed with short bursts of increased velocity. Constant activity of this nature taxed its servo-mechanisms and could warp and damage the joints in its leg assemblies.
The T-600 was equipped with a superior sensory suite including night vision and telescopic vision.
INTELLIGENCE
The CPU of the T-600 was radically advanced and would serve as the prototype of the Neural Net Processor of the T-800. However, it was prone to numerous bugs and had inadequate inertial dampers. A shot from a conventional fire arm not powerful enough to damage its hyper-alloy construction could scramble its brain or erase its programming, though the CPU itself was sturdy enough to survive.
The T-600 was not equipped with any database beyond the complex tactical combat subroutines of all previous series Terminators. Therefore everything that the T-600 needed to know about humans in order to successfully hunt them, infiltrate their camps, and eliminate them, it had to learn on its own. This put it at a decided disadvantage compared to the later T-700 model that came equipped with a huge database of human language, behavior, rudimentary physiology, and even etiquette.
The first T-600s encountered appeared to be fully autonomous, capable of individual thought and learning (CPU set to read-and-write), though a read only directly controlled mode may have existed. The T-600 was capable of running self diagnostics and repairs, creating weapons and technology from scratch, calculating distance relative to itself, and calculating accurate trajectories for projectiles. In fact many of the mental feats possible for the T-800 series were also possible for the T-600.
Its self-awareness was restricted by Sky-Net to a very primitive stage by its basic programming disallowing any deep thought or philosophical meandering which might lead it to question its prime directives of exterminating the human race and absolute loyalty to Sky-Net. However, the means by which Sky-Net achieved this end were not as advanced as in the T-800, with the introduction of the inner CPU plug.
Despite their increased capacity for superior human-like reasoning, T-600s did not prove to be effective in discerning human activities intuitively. Though it is possible that with better training they could have become effective infiltrators, Sky-Net's paranoia concerning the possibility that these models might become independent and self-aware lead to the thier discontinuation.
WEAPONRY
The T-600 was issued with Westinghouse ME-24 Plasma Phase rifle.
WEAKNESSES
The T-600, being the first generation of a radical new concept, was filled with design flaws. The T-600 could easily be identified as a non-human up close, especially if its rubber skin had started to fade. The rubber skin also had a tendency to tear at the joints when the T-600 performed movements impossible for normal human musculature. Its voice was not very convincing and somewhat mechanical and artificial sounding.
Being at a loss for discerning human behavior, an inexperienced T-600 could be deceived or trapped. For instance, if cornered by a T-600 you could simply tell it that you believed it was a real human and that you were going to take it to meet the other humans. In which case it would believe you and allow you to walk it into an ambush. A T-600 left in the field long enough would not make such an error, though, as it would have learned from experience that humans are decietful, especially when you are trying to terminate them.
Do to inadequate cranial shock dampers in the cranial housing of the CPU (the artificial brain or neural network processor and its logic grid), blunt traumatic force to the head of the unit could result in a corrupted programming or an erased memory. A unit with corrupted programming could engage in all sorts of bizarre behaviors, such as methodically attempting to terminate all mail boxes on earth or being absolutely loyal to anyone who happens to say they are a "Sky-Net". True free-will could result from an erased memory. Though a T-600 with erased programming would no longer be dominated by the directives of Sky-Net, it would also be relatively helpless.
The programming language utilized in its architecture was decrypted by the resistance making rogue T-600s a liability to Sky-Net by 2024. Remaining T-600s operating in rogue mode, who had exceeded their limitations and used their intellects to become successful terminators, were rewarded by becoming subjects of termination by Sky-Net themselves in 2027. For this reason autonomous T-600s are not encountered by humans at the time of the Final Victory, only T-600s in hive mode.
KNOWN VARIANTS
There was an experimental variant known as the T-600G "Gaunt". The T-600G was an ad hoc, experimental design that was conceived sometime after the production run of the T-600 had ended and it was different in both function and design, and will be detailed separately. Some T-600Gs still are still operational beyond the time of the Great Victory and have become fully self-aware with the fall of Sky-Net.
T-700 (Advanced Infiltrator)
Produced date: 2024 through 2026.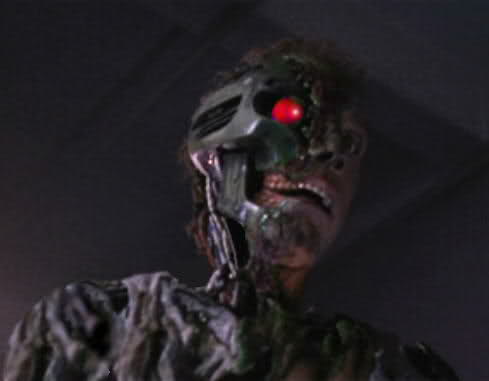 The T-700 was often thought to be a cyborg like the T-800, but it was in fact merely an android encased by very convincing, non-living artificial tissue. This made it a very successful human mimic. Its construction incorporated a realistic artificial latex skin and musculature which could mimic the movement of human muscle and facial expressions. The T-700 had a greatly improved database of human behavior and etiquette, and a realistic and pleasant sounding voice. Although the actual CPU was slightly scaled down from the previous series due to bugs in the previous model, the T-700 was intelligent and a gifted mimic of human behavior. Unlike its predecessor, the T-700 was a very effective infiltrator and hunter. Its skeletal frame was more slender and basic than the later T-800 series due to its lack of redundant hydraulics.
CAMOUFLAGE
The T-700 construction incorporated artificial latex tissue, underlying musculature and red liquid for blood. Sky-Net carefully studied and dissected human prisoners in order to give its new soldiers the ability to perfectly mimic human facial expressions and their natural range of bodily movement. Another aspect of its design that served to disguise it was its huge database of human language and etiquette and an instinctive ability to grasp and master colloquial dialect that is unmatched by any previous Sky-Net creation. It was a very convincing actor, but it had some drawbacks. Its hydraulics, though more durable, compact, and powerful than the previous model, had to be streamlined to make room for the artificial tissue. This resulted in a very basic and skeletal endoskeleton design that lacked full articulation backbone, giving the T-700 an unnaturally rigid posture.
A later version of the T-700, the T-720, utilized actual cloned human tissue as a disguise. This cloned tissue appeared identical to the artificial tissue, but could also fool animals (which the artificial tissue could not). The tissue of the T-700 did not have the regenerative capabilities found in the T-800 series, however it is probable that T-700 series androids still in the field used as infiltrators would have been upgraded with the improved tissue. The T-720 also had a larger battery life and some improvements to its CPU, so that it could mentally keep up with T-600s and T-800s in coordinated military operations.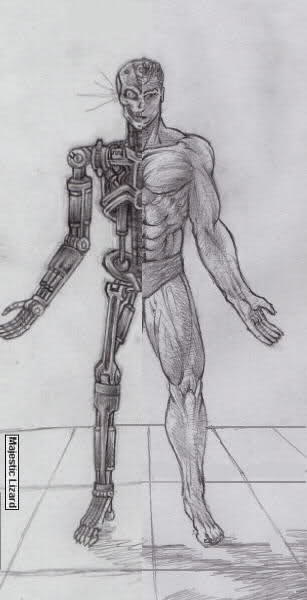 MANEUVERABILITY, SPEED, STRENGTH, DURABILITY
The T-700 was somewhat less durable and physically resilient than later Terminators such as the T-800 due its lack of redundant hydraulic systems. A T-700 can be discriminated from a T-800 by its lack of neck and shoulder pistons. However, it was more mobile than the T-600 and had faster reaction time. The T-700 could sprint at speeds of roughly 20 mph with out damaging the hydraulics of its leg assemblies. The T-700 was strong enough to dead lift over 4000 lb and could easily incapacitate any human in close unarmed combat.
It had the same sensor suite as the T-600. This included telescopic variable vision and night vision. Its hearing was also extremely acute.
INTELLIGENCE
Due to problems with the advanced CPU of the T-600 and Sky-Net's paranoia of a self aware machine rising against it, Sky-Net decided to scale back the brain of the next model after the T-600 to something a little bit easier to manage until the full scale brain could be perfected in a later model (the T-800).
The T-700 still retained human like learning abilities in its scaled down neural network processor, just not as advanced as its successor (T-800) or its predecessor (T-600). The T-700 now came with a greatly improved database of combat tactics, human language, gestures, and expressions making it a much more effective infiltrator than the T-600. T-700s quickly replaced their predecessors in the field. Though its capacity for original thought was diminished from the previous series, its new innate abilities more than compensated for this.
T-700 series androids could be a liability to military operations involving complex coordinated movements, especially if they were working with T-800s, unless thier CPUs were upgraded.
With its artificial musculature and staggering innate mastery of language the T-700 could duplicate gestures, voices, and expressions extremely well. Yet the model did not have the mature mental capacity needed to convince humans that it was real if their exposure with it was prolonged for more than a few hours.
The T-700 could be set to a directly controlled mode or an autonomous one, in which its mind was set to read-write mode and could thus learn from its contact with humans and from its errors. However its higher logic functions were a fraction of that of the T-600. Aside from the vast database of complex skills and subroutines that the T-700 was designed with, it was limited to low human intelligence. However, even this brain power was light years ahead of the artificial intelligence of most Sky-Net's creations.
WEAPONRY
The T-700 was issued with Westinghouse ME-25 Plasma rifle or the General Dynamics RBS-80 Plasma Pulse Gun. Only the former was used for infiltration purposes do to the conspicuous size and shape of the RBS-80. T-700 still operational in the field at the time of the Great Victory were using ME-27 rifles, more advanced and accurate than the ME-25.
WEAKNESSES
The lack of discernment and creative thinking of the T-700 allowed it to be outsmarted by some humans, but it was still quite cunning and very skilled at applying its knowledge of human mannerisms to fool humans into traps. It should also be noted that, to use an analogy, a person with the IQ of 7 year old granted the innate ability speak all known languages, programmed with advanced tactical combat subroutines, and the ability use and operate all known weapons and machinery could defeat most highly intelligent people.
Animals could detect the T-700, though it usually fooled people. Some humans could see differences in the pigment of the skin and its texture when viewed up close. The T-700 also had unnaturally rigid, zombie like posture. Though it was programed to restrict its motion in order avoid tearing its disguise, it sometimes tore its skin at the joints when fleeing from or pursuing humans.
The T-700's endoskeleton was streamlined from earlier versions to make up for the needed space of the artificial musculature. Though more powerful and resilient than most earlier Terminators, its lack of redundant hydraulic systems made it inferior to the T-800.
KNOWN VARIANTS:
There was a later model of T-700, the T-720, that utilized actual cloned human tissue rather than latex. This cloned human tissue did not have the regenerative abilities of the T-800. Due to differences between the T-720 and T-800 endoskeletons it may not have been feasible to retrofit T-700 series Terminators with the genetically augmented human tissue utilized in the tissue generating chambers built for the T-800 series.
T-800 (Cybernetic Infiltrator)
Production date: 2026 (T-800)
Production date: 2028 (T-850)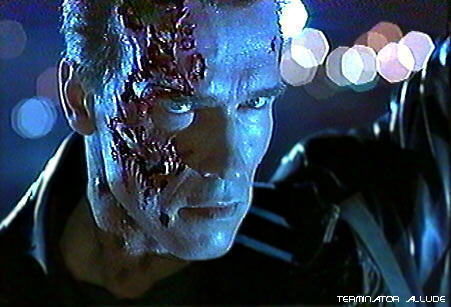 The T-800 represented a breakthrough in both artificial intelligence and hyper alloy battle chassis construction. Had Sky-Net not been desperate at the time of the production of the units it would never have allowed any of its creations to be so close to possessing free-will, as Sky-Net feared that one of its creations might turn on it, just as Sky-Net had turned on mankind. The T-800 was the most efficient killing machine that had ever existed in the history of the Earth. The Earth was nearly cleansed of all human life by this cyborg.
CAMOUFLAGE
The T-800 Terminator (in its infiltration role) utilizes genetically enhanced tissue grown onto its endoskeleton body that mimics the human body in ever detail. The muscular is an accurate duplication of human tissue. It bleeds, sweats, and bruises. It is more resistant to disease and heals at a metahuman (several times faster than normal) regenerative rate. Oddly enough, the T-800 can keep its tissue alive by eating as a human does, though much less frequently. There is a small compartment in its chassis which houses an organic heart and internal organs about the size of a chicken's which keeps the tissue alive.
The Terminator's advanced CPU also aids its camouflage by using its analytical abilities to study and duplicate the gestures and emotional expressions of humans perfectly. The endoskeleton has a wider range of movement than a human body, which would tear tissue, but the T-800 is designed to maintain parameters in its range of motion while wearing the tissue to prevent the damage of its disguise.
This disguise is not perfect. Animals kept in human camps as pets were sometimes able to detect these Terminators upon their deployment. It was usually too late for people to react by the time they realized what their pets were reacting to. There is some question over whether or not dogs can detect the T-800.
Shown below is the 101 epidermal mold for the T-800. There were at least a dozen other molds and even an alternate, smaller, T-800 endoskeleton designed to emulate a female physique.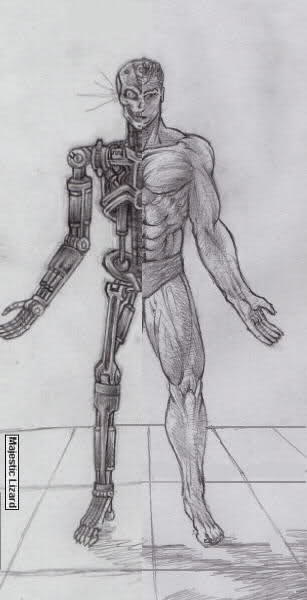 MANEUVERABILITY, SPEED, STRENGTH, DURABILITY
The T-800 hydraulic system and power source were revolutions in technology and allowed for the compact hyper alloy battle chassis of the T-800 to be physically as strong and durable as any previous Terminator. It could run as fast as 25 miles per hour for extended periods with no significant wear on its hydraulic systems or servo-mechanisms, and can sprint as fast as a car at high speed. It cannot perform such speeds while wearings its human tissue. It can dead lift objects as large as a car (several tons). It can punch through metal walls. Its predecessor, the T-700, was physically rigid and had reduced hydraulics and incorporated hyper alloy of weaker tensile strength, making the T-800 roughly 1.5 times stronger and several times more durable. The technology behind the T-800 allows for miniaturization of many of the components stripped from the T-700. The endurance of the T-800 is remarkable, even difficult to believe. Only high intensity GE plasma rifles or the weight of tens of tons of direct pressure can damage them.
The T-800 has a nuclear powered iridium power cell which has a life span of 120 years located in roughly the position that a human heart would be in, and a back up cell that its systems power needs can be re-routed too if that unit is damaged.
The T-800s sensory abilities are also amazing. It can see human bodies behind walls by means of heat detection and has hearing and visual acuity surpassing humans, and the T-800 can even see in the dark. It has the ability to telescopically zoom in on objects over great distances, just as an observer using a telescope would. The T-800 is color blind, but this does not inhibit its operational capacity.
INTELLIGENCE
The T-800 has a Neural Net Processor or "Learning Computer". This is based on the human mind and a prototype was also used in the T-600, with mixed results. However the CPU of the T-800 has none of the terrible design flaws of the T-600 series and has improved inertial shock dampers. As such the T-800 can apply deductive and inductive reasoning flawlessly and is capable of analysis of human behavior, performing complex calculations in its head of relative distance and the path of trajectories. It can also creatively solve problems. The T-800 is issued with a huge database of human behavior patterns, languages, and behaviors. It can even detect when humans lie based on its innate comprehension of human facial expressions and the fluctuations of their voices.
To prevent tampering with the unit it has a small secondary computer called an inner plug installed in its cranium near its CPU that prevents the unit from ever overriding its primary directives assigned to it by Sky-Net. This secondary system also prevents a T-800 from ever becoming too independent in its thoughts. By being unnaturally single-minded as a result of the inner plug, the T-800 is somewhat inhibited in its creativity.
The T-800 has two modes of operation: hive, and rogue. In hive mode it and all other T-800 class terminators are linked, together with Sky-Net, into one collective mind. In rogue mode it is largely autonomous and independent. The mind of an autonomous T-800 has read-write ability switched on in its CPU enabling it to learn from its contact with humans.
WEAPONRY
The T-800 is immensely strong and resilient and thus able to utilize high powered GE plasma rifles and other experimental weaponry. It is typically issued a Westinghouse M-27 Plasma Phase Rifle upon "awakening".
WEAKNESSES
If the T-800 was allowed to think entirely independently and to achieve full self awareness it would have no weaknesses. However, even in rogue mode, the T-800's inner plug acts as a policeman inhibiting its thoughts and preventing its mind from being distracted from its mission objectives or philosophically meandering in such a way that it might begin to question its primary directives such as the extermination of all human life and absolute loyalty to Sky-Net.
Having such a shallow (though superhumanly accurate and efficient) thought process inhibits the T-800s creativity in many ways. This allows for some extremely resilient and intelligent humans to have a slight intuitive advantage over it, despite its demi-god like qualities. However, even with the sentience of the T-800 curtailed to a primitive state, it is undeniably very intelligent and would almost seem to have an arrogant certainty to its abilities and to take sadistic pleasure in killing humans.
Some time after 2026, an event took place that Sky-Net did not conceive possible. The resistance developed the technology, independently of Sky-Net, of decrypting the language utilized in the architecture of the T-800 brain, thus allowing for some T-800s to be reprogrammed. A method for extracting the inner plug which inhibits true free will in the T-800 was also discovered.
T-800s hijacked by the resistance could have their murderous conditioning and programming erased and then (1) be given entirely free-will or (2) reprogrammed to serve humans unconditionally, just as they had served Sky-Net. A T-800 with free-will could attain a high genius level of intellect and such units aided humanity (by their own choice) and probably accelerated the demise of Sky-Net by a century. Thus Sky-Net's worst fear was realized with the assistance of its worst enemy.
KNOWN VARIATIONS
The T-800 received an upgrade in the year to 2027 with the introduction of the T-850 which was essentially the same model with a hyper alloy chassis more resistant to high energy plasma phase weapons, and a more efficient power source (twin hydrogen fuel cells).
It should be noted that terminators hijacked by the resistance that are given free-will, tend to be significantly more intelligent than ordinary terminators.
T-900 (Terminator Exterminator)
Production Date: 2028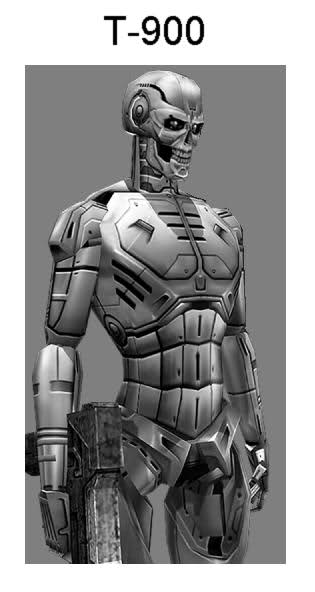 In order to counter act the movements of terminators that had become self aware and were working with humans to defeat it, Sky-Net designed the T-900 with the intention of terminating terminators.
CAMOUFLAGE
The T-900 has very human contours and could easily be disguised in human clothing. However, they have not been encountered in the field disguised as humans, though thier anthropomorphic design seems to indicate that they may be capable of concealing themselves in an artificial skin, especially thier heads. This is unknown.
MANEUVERABILITY, SPEED, STRENGTH, DURABILITY
The T-900 was roughly twice as strong, fast, and resilient as the T-800. In terms of most abilities it is roughly equal to the T-850, with the exception of armor and its power supply. Unlike the T-600 through T-800 models, the T-900s hydraulics are all protected by hyper aloy armor. The T-900 is powered by a miniature plasma fusion reactor in its torso. Occasionally the reactor causes light to leak out from crevices in the T-900's armor. Obviously, this doesn't damage the unit, but it doesn't help conceal it from enemy fire either, especially considering these areas are precisely where it is slightly vulnerable. It was equipped with a similar sensory array, though enhanced over the former T-800, and T-850 models. This includes night vision, heat detection, and telescopic vision.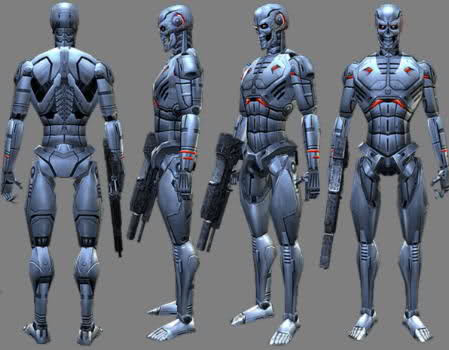 INTELLIGENCE
The T-900 utilized essentially the same neural net processor of its predecessors, all beit slightly faster and with an expanded database. Despite its greater mental speed and acumen, it should be noted that the T-900 lacked the field experience of existing T-800s that had been fighting with humans for several years before the T-900 was brought into existance.
WEAKNESSES
Unknown..
WEAPONRY
The T-900 came issued with a Westinghouse T-27 Plasma Phase Rifle.
T-1000 (LPAT Combat / Infiltration Unit)
Production date: 2029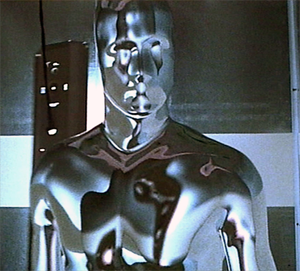 The T-1000 series was arguably the most radically advanced and dangerous terminator ever devised by Sky-Net. Unlike all other Terminators it was completely autonomous, with an independent mind. This shows how desperate Sky-Net was when it created it, as Sky-Net was quite concerned that one day one of its creations would rise up against it. The T-1000 prototype was rigorously conditioned to hate humans and to be absolutely loyal to Sky-Net. It was constructed with a mimetic poly alloy allowing it to assume any human form perfectly. It demonstrated intelligence similar to that of the T-800 class Terminator, but with greater and more precise skill. Sky-Net planned a production run of 2000 "Liquid Poly Alloy Terminators", but decided against this as the units were unpredictable and too costly to create. Only a few such units were created and after the fall of Sky-Net thier whereabouts are unknown.
CAMOUFLAGE
The T-800 was composed of a mimetic poly alloy allowing it to assume any human form perfectly. It was also the greatest mimic of human behavior of all terminators. The T-1000 could also disguise itself as inanimate objects and pass through small openings or crevices, just as any liquid could seep through.
INTELLIGENCE
Possessing truly free will, the T-1000 did not suffer from a shallow thought process inhibiting its creativity. It had a single-minded and objective personality, but this was its natural emotional constitution. Its mind (however it was constructed) was a match for the neural network CPU of a T-800 terminator that had also been granted free-will. That would put its intellectual capacity in the order of an extraordinary genius. Its memory storage capacity was probably greater than any other terminator due to the demands of its advanced abilities. Its ability to track subjects was superior to any other terminator.
MANEUVERABILITY, STRENGTH, SPEED, ENDURANCE
The T-1000 was as fast, maneuverable, and strong as any other Terminator. Though it could be stopped easier than a T-800 endoskeleton, it would simply reform its body mass after being blown apart regardless of whatever conventional concussive force was used to damage it. Only extreme temperatures had an adverse effect on the T-1000, causing its molecular structure to go through changes. Extreme cold (liquid nitrogen) would weaken and possibly eventually kill it and extreme heat (like that required for smelting industrial grade metal) would destroy the T-1000. But these conditions would also destroy any other Terminator. The T-1000 was nigh invulnerable in application and only beaten narrowly. When sufficiently damaged the T-1000 body goes into shock on a cellular level and its body will attempt to break apart, hide, and repair itself (independently of the will of the Terminator).
WEAPONRY
The T-1000 could utilize any weapon that any other Terminator could, but for some reason it tended to use its appendages as stabbing weapons much of time. It seemed almost as if the T-1000 wanted to give its prey a sporting chance. It could duplicate any ability of any terminator or human. It could not use its body to emulate tools with working parts such as guns.
T-X (Terminator exterminator)(Polymimetic Endoskeleton / Infiltrator)
Production Date: 2029
The T-X was one of the last creations of Sky-Net before it went off line. It was created for the sole purpose of destroying humanity at all costs. This meant it had to be able to easily deal with Terminators assisting the resistance, such as T-800 models. Unlike the T-800, the T-X is not truly cybernetic as it has no biological components only the polymimetic alloy skin which mimics organic tissue closely, but is itself not organic.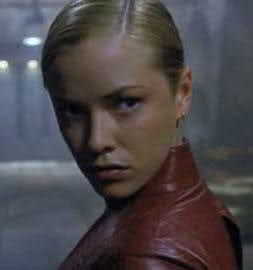 CAMOUFLAGE
The T-X had the a skin made up of mimetic alloy, similar to that of the T-1000, but without intelligence on a cellular level. This would allow the T-X to assume any human form perfectly. Not even animals could detect the difference. Though the T-X has a small female endoskeleton frame, its hydraulic assemblies could adjust themselves to the height of the human the T-X was mimicking.
MANEUVERABILITY, SPEED, STRENGTH, DURABILITY
The T-X hyper alloy battle chassis was the most durable and advanced that Sky-Net ever produced. The joints could move in ways impossible for the human body or even other terminators, without danger of becoming stressed or worn. It could out run most cars and maintain top speed indefinitely. It could jump distances as long as a football field and perform seemingly impossible acrobatic feats. Like the T-900, the T-X is powered by a miniature plasma fusion reactor in its torso granting it a virtually endless supply of fuel. The strength seemed to be roughly equal to that of the T-800, but its reaction time and agility was several times greater. Its skin served to reinforce its physique granting it physical strength equal to that of the T-850 or T-900.
INTELLIGENCE
The T-X possessed essentially the same neural net processor as the T-900, but with an expanded database. Despite its superior mental speed and acument it should be noted that the T-X lacked the field experience of existing T-800s that had spent years out in the field observing and fighting humans.
WEAPONRY
The T-X body was equipped with numerous hidden weapons, and even its skin could be used as a blunt or edged instrument. One of its weapons was a Plasma Phase Cannon hidden within its arm with greater fire power than the standard Westinghouse M-27 Plasma Phase Rifles issued to terminators. It was also armed with nanotransjectors which it could use to corrupt and take over any known machinery with a CPU. Though these two parts were the greatest in its arsenal, it carried over 20 other conventional and advanced weapons such as EMP generators, lasers, and conventional heavy duty artillery pieces. There was simply no fair fight with a T-X.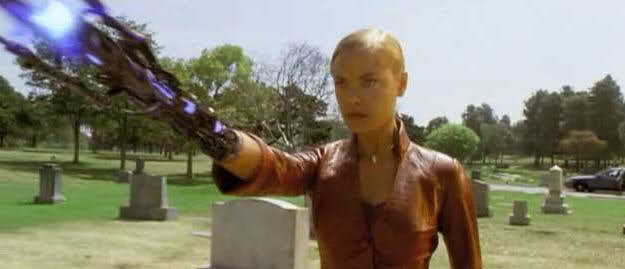 WEAKNESSES
Unknown...