Administrator
Staff member
Staff
Member
Joined

May 27, 2010
Messages

5,269
Points

83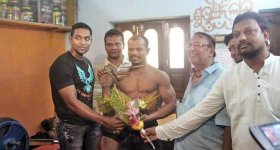 Despite financial constraints, Uday Nath Mallik of Berhampur won a bronze medal in the 60 kg category at the 57th Mr. India bodybuilding competition held in Ahmedabad from April 21 to 23.
Following the win, he has been selected to take part in the Asian amateur bodybuilding championship to be held in Mangolia from May 21 to 23 as well as the Olympia Amateur India Open for Asian Countries to be held in October.
After his return from Ahmedabad, Mr. Mallik was honoured in Berhampur on Wednesday. The function organised to honour him was attended by Commonwealth Games gold medal winning weightlifter K. Ravi Kumar as well as office-bearers of the Odisha Bodybuilding Association (OBA).
The major point of discussion during the ceremony was dearth of funds for Mr. Mallik to attend these international championships and money for his dietary requirements to prepare for these events. OBA president G. S. Nayak said bodybuilding was an expensive sport which involves much spending on diet and nutrients.
Mr. Nayak and Mr. Ravi Kumar urged the State government as well philanthropic organisations to come out and support the efforts of the aspiring bodybuilder.
Thus far, Mallik's life has been one of toil. This 38-year-old bodybuilder hails from a poor family and lost his father when he was around five. At the age 15, he started earning for his family by working as a transport worker involved in loading and unloading of bags at a truck depot. Because of his passion for bodybuilding, he used to take time out from his workplace to exercise at a local gymnasium. In 1997, he won the Mr. Ganjam title, which increased his interest in bodybuilding further. And after that he took part in State and national events.
Financial support
"If I had got financial support for proper diet and nutrition, I would have shone much earlier at the national level," said Mr. Mallik. Now he is married and has two children. He now spends more time as a trainer at a gymnasium in the city to support his family.
As he works as a trainer, he gets less time for his own training, said Mr. Nayak.
From thehindu.com