MuscleMecca Crew
MuscleMecca Crew
VIP
Author
Joined

May 11, 2012
Messages

3,171
Points

63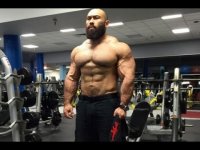 Jason Huh had the chops and the physique to win the Olympia. He decided it wasn't worth it.
Check out the following article on Jason Huh from jbhnews.
Jason Huh Explained Why He Left the Professional Sport and Never Felt Sorry For That
By Erryn Deane - January 16, 2019
When looking at the successful bodybuilders, people think about one thing only: "How to become massive and strong like that?". We all know that there is a really great work standing behind each story of success. However, no one except those who reached the top can understand how much this success may cost.
Jason Huh used to be one of the most popular bodybuilders years ago. Year after a year he demonstrated an incredible physique and great posing skills. Everyone spoke about his ability to work almost without any break.
Huh had all chances to become Mr. Olympia, another bodybuilding legend and the sport's icon that could stay loved and admired by generations of sportsmen.
However, things that happened soon after sports experts called Jason Huh one of the best Olympia participants, shocked everyone. Huh told he was leaving the sport.
What could be a reason for that? There were dozens of versions: health issues, depression, mental disease. The sports fans could only wonder: what could stop such a great sportsman on the way to his goals!
It looks like now, years after Jason Huh left the professional sport, the bodybuilder is ready to reveal the real reason. He told that the professional sport was the great thing. Perhaps, he'd even liked to go till the end, making the sport's history remember his name forever. However, the bodybuilder thinks that there are things that are more important that Olympia crown and fame.
Jason told that his attitude towards the situation changed when he had children. He stood in front of a difficult choice: his great career or being with his family, being a dad and not just a father. Finally, he understood, that he could never be able to combine his hard work, his bodybuilding career and his role of a family man.
Huh told he chose the simple life, family evenings and an opportunity to watch his children growing. He told he had never felt sorry for that decision and would repeat it again if it were necessary.
[INSTAGRAM]BpcmggkhcTP[/INSTAGRAM]