tkD
Administrator
Staff
VIP
Member
Joined

Mar 7, 2008
Messages

21,374
Points

113
Cedric looks awesome. Greatest structure out there, and in condition this time, maybe a bit flat but will fill up by tomorrow I think.

Haley was soft from the back, Mishin is ON, but structure and front double pose is s

h

it, wide waist etc, Banks is very impressive, Liberatore as well. There is no way Piotrojsodjaoszic is placing ahead of guys like Liberatore or Banks, now way in hell. For ****s sake he has FBB quads compared to the rest of the lineup, very odd looking.
Bump for these 2 vids, as they are much better to judge from than those pics. Lighting was terrible.
despite this wasnt Cedric's best appearance, his potential is unmatched.

Cant wait till he fills up his frame.
Agreed.
.:::X-Treme:::. said:

what the hell happened with Cedric?? he looks like 40 pounds lighter and with worse condiotioning than in his previous appearances lol
Check this link/interview.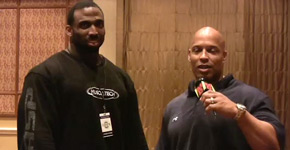 Or more in this thread, where he replies to a troll who thought he was hiding/afraid of competing again after his 4th place in his pro debut last year.
Hiding? Ahahahaaaaa... I don't know what I did or didn't do to make u think I was hiding...

I was at the olympia, the nats and the arnold since my "4th place defeat".

Maybe u say that because I haven't competed since then... Im full time in the Army, i teach a leadership course and I manage a communications course. I only do 1 show a year because I have soldiers and subordinates that depend on me. That's why I planned for the NY Pro.

In December my wife and kids were in a bad car wreck and almost died... Ive been doing my best to take care of them.

U have been on my Q&A thread asking questions, was that so u could criticize what I do? My volume and method of training has gotten me where I am now, if I see a need to change stuff up I will...

If u wanted to know what I was up to, just ask me... Why u gotta make comments like that?

Imagine almost losing YOUR family and going through the toughest time of your life, not knowing what to do or which way to turn, watching the people u care for the most suffer, and not knowing if they're gonna live... Then trying to get back on your feet AND THEN reading about somebody that don't know u or anything u've been through say ur "hiding like a liittle school girl"

I'm doing the best I can bro
Last edited by a moderator: