Joe Pietaro
Joe Pietaro Contributer
VIP
Author
Joined

May 30, 2014
Messages

1,372
Points

83

By Joe Pietaro
12-11-2014
There was an aura about the Franklin County Veteran's Memorial in Columbus, Ohio and anyone who has ever attended an event there knows exactly what that means. The nostalgic look and feel to the arena gave it personality and character and the long and winding staircase leading up to the main auditorium entrance is a cardio workout in itself.
The
Arnold Classic
has been held every March at the venue since its inaugural show in 1989 but that will change with the next incarnation of what is now known as the Arnold Sports Festival.
The Veteran's Memorial is undergoing a $3 million facelift and will be out of commission until it is completed. So in 2015, the Arnold (March 6-8) will be held at the Battelle Grand at the Greater Columbus Convention Center, the same location that the fitness EXPO is held every year.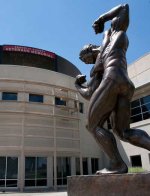 Because of the addition of the competition at the same facility, several events will be moved to the Ohio Expo Center.
"A daily EXPO ticket affords a great entertainment value and allows our attendees to experience a great variety of sports and events," co-promoter Jim Lorimer said in a press release. "We are very proud to provide the opportunity for athletes, a majority of them youth, to compete at the largest multi-sport festival in the U.S."
To make everyone feel even more at home, the 8-foot, 600-pound bronze statue of
Arnold Schwarzenegger
was moved from the Veteran's Memorial to the Convention Center, with a re-dedication ceremony held last October.
Yes, the building will look a lot nicer with the upgrades, but there was something special about the Veteran's Memorial. Schwarzenegger fell in love with the arena and the city when he first visited both at the 1970 Mr. World.
Anyone who has ever set foot in it knows why.
Written by Joe Pietaro from
http://www.musclesportmag.com/
for MuscleMecca.com - Copyright © 2014 MuscleMecca.com