Administrator
Staff member
Staff
Member
Joined

May 27, 2010
Messages

5,285
Points

83
Are you getting ready for the 2017 Mr. Olympia? musclemecca is! Here is where you will find all updates leading up to the 2017 Mr. Olympia and our coverage of the event too!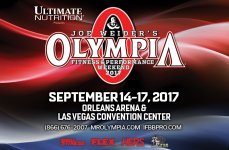 The 2017 Mr. Olympia will be at the Orleans/ Las Vegas Convention Center in Las Vegas, Nevada on September 14 through 17, 2017! Check back here for more details about the 2017 Mr. Olympia Live Stream or televised coverage!
As we head into July, bodybuilding fans and enthusiasts alike are looking forward to the much anticipated 2017 Olympia event in Las Vegas, Nevada! Taking place from September 14 to 17, the Mr. Olympia contest and expo is sure to bring fans from all across the globe for what should be one of the most competitive match-ups we have seen in awhile on the main stage.
With Cedric McMillan winning this year's Arnold Classic and looking better with his signature conditioning and aesthetic appeal, can Phil Heath continue his reign of dominance and become a 7-time Mr. Olympia winner? Or will the tides turn as we're starting to see a slight favor towards a more "classic" look, and have the judges sway their opinion towards McMillan? With about 3 months left for contest prep, it should be exciting to follow everyone into the contest stage and see if history can be made.
Anything can happen leading up to the Mr. Olympia and there is a line-up of great competitors able to score an upset on contest night. Big Ramy is looking freakishly huge with recent footage of him, walking at around 320 pounds in the offseason! Dexter "The Blade" Jackson is always prime to take an upset placing with his consistency with being in shape on contest night and remains a threat - even at the age of 47.
And of course, the big talk this year is the Olympia debut of Sergio Olivia Jr., who is none other than the son of 3x Mr. Olympia winner Sergio "The Myth" Olivia. Can we have the first 2nd generation IFBB bodybuilder win the entire Olympia? It is a long shot to say the least for this year, but it will be interesting to see how Olivia Jr. gets ready for the stage and time will tell whether he has what it takes to be a future champion.
Here is a list of competitors qualified so far for the Mr. Olympia (taken from the Mr. Olympia contest website this month):
NAME COUNTRY
Beyeke, Lionel - France
Bonac, William - Netherlands
Curry, Brandon - USA
De Asha, Nathan - United Kingdom
Elssbiay, Mamdouh - Egypt
Heath, Phil - USA
Jackson, Dexter - USA
Jackson, Johnnie - USA
Martinez, Victor - Dominican Republic
McMillan, Cedric - USA
Oliva Jr., Sergio - USA
Osladil, Lukas - Czech Republic
Rhoden, Shawn - USA
Williams, Gerald - USA
Winklaar, Roelly - Curacao
Coverage of the Mr. Olympia on Muscle Mecca will also feature the 212 division, which has a roster of seasoned vets set to make a competitive line-up this year! Flex Lewis is the reigning 5x 212 Olympia and will surely be tough to dethrone with his dominating size and conditioning set forth every Olympia contest. With the 2017 Arnold Classic casting a few surprises in this division earlier this year, Ahmad Ashkanani is in a position to create even more upsets when he faces Flex Lewis onstage in September.
Currently qualified 212 Olympia contestants:
NAME COUNTRY
Ashkanani, Ahmad - Kuwait
Choopan, Hadi - Iran
Correa, Eduardo - Brazil
Dixon, Charles - USA
Henry, David - USA
Lewis, Flex - United Kingdom
Raymond, Jose - USA
Rockell, Ronny - Germany
Sadek, Milan - Czech Republic
The Fitness Olympia always puts on a great show in Las Vegas, and Oksana Grishina has won the past 3 Fitness Olympia titles in convincing fashion. Despite being 39 years old, age has not slowed her down and we here at Muscle Mecca predict that Oksana will be a likely 4x Fitness Olympia champion this year.
Currently qualified Fitness Olympia contestants:
NAME COUNTRY
Da Silva, Regiane - Germany
Foroni, Giorgia - Italy
Grishina, Oksana - Russia
Johnson, Tanji - USA
Jones, Whitney - USA
Kendall-Williams, Sally - USA
Khadr, Ariel - USA
Pajunen, Piia - Finland
Wagner, Bethany - USA
Muscle Mecca will also be providing you continual coverage of the Figure Olympia - who doesn't love seeing these ladies onstage?! Though there is a wide talent pool of qualified competitors, Latorya Watts brings a package of perfect shape, symmetry, and one of the most impressive v-tapers we have ever seen in the division that will be hard to stop her from winning the title a 4th time. What do you think guys and gals - does anyone have a chance of beating Latorya?
Currently qualified Figure Olympia contestants:
NAME COUNTRY
Calhoun, Andrea - USA
Dees, Heather - USA
De La Rosa, Swann - USA
Fortino, Wendy - USA
Garcia, Maria - Spain
Gillon, Cydney - USA
Grajales, Sandra - Mexico
Hammermeister, Stephanie - USA
Ivusic, Ivana - USA
Jordan, Marlissa - USA
Lewis Carter, Candice - USA
Martineau, Laurelle - USA
Ondrejovicova, Adela - Slovakia
Pollard, Andrea - USA
Reyes Padilla, Jessica - Puerto Rico
Soltero, Natalia - Mexico
Watts, Latorya - USA
Wilkins, Nicole - USA
Yabekova, Martina - Canada
Zabavina, Natalia - Russia
With the continuing growth of the sport & more people interested in competing, the Olympia will be featuring more divisions than ever before. Not only will Men's Physique be featured, but we also have:
Men's Classic Physique
Women's Physique
Women's Bikini
It will definitely be a long weekend of competition in this year's iteration of the Olympia. As in years past, the main contest stage will be held at the Orleans Arena with the official hotel venue being the Orleans Hotel (off-strip). Book now if you haven't already - from my past experience, the Orleans gets fully booked by around July!
The Olympia experience wouldn't be complete without going to the Olympia Expo, so be sure to check that out too! Featuring not only bodybuilding and physique, the expo is packed with contests such as powerlifting, strongman, and even jiu-jitsu. As with every year at the expo, they will also be featuring the "Male Model Search" in which you can win an exclusive contract with a media company by showing up at the expo and proving that you have what it takes to be the next big time model. Details can be found on the Mr. Olympia website.
Muscle Mecca signing off for now. We'll be keeping you posted with continual updates on the Olympia and be providing you coverage as we get closer to September. As always, keep training hard and work on becoming the best version of what you want to be in the gym!
Last edited by a moderator: