Administrator
Staff member
Staff
Member
Joined

May 27, 2010
Messages

5,285
Points

83
We are happy to announce the 2017 NPC Central USA Natural Championships National Qualifier!
April 22, 2017
Century Link Convention Center
Omaha, NE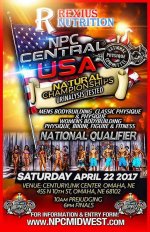 This is a natural bodybuilding event!
[FONT=&quot]List of banned substances: [/FONT]
CLICK HERE
All athletes must of been clean of ANY use of all banned items for three years.
The list of banned substances can been seen by clicking on the above link, but a rule of thumb is all steroids, hormones, diuretics, estrogen blockers, beta 2 antagonist etc.
A complete list is available by clicking on the provided link and is recommended that you do so.
All winners will be urinalysis tested back stage by a qualified nurse / doctor and all samples will be sent out for testing right after awards. Athletes who fail the urinalysis test will be stripped form their placing and national qualification for three years with the NPC. A random test can be ordered by the HEAD judge if he feels one is needed on any competitor during the event only!