MuscleMecca Crew
VIP
Author
Joined

May 11, 2012
Messages

2,966
Points

48
FIBO Germany is here!
April 04 – 07, 2019
Exhibition Centre Cologne
Cologne, Germany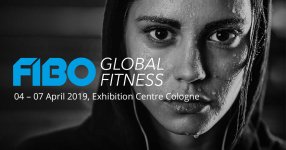 FIBO Press Releases:

Creative concepts unleash new forces: Young innovative companies to present themselves at FIBO
21 March 2019
Young innovative companies to present themselves at FIBO | Young innovative companies to present themselves at FIBO
Workout refreshments in plastics-free packaging, your own pocket-sized gym or massage boots that get tired legs going again – there are plenty of ideas for a life in motion. That's why FIBO is offering a dedicated forum for young companies eager to mix up the market with their innovative products. Thirty-six companies funded by the German Federal Ministry of Economics and Technology will be presenting their developments in Halls 5.2 and 10.2. From 4 to 7 April, this is the place where trade visitors and fitness fans will find lots of suggestions on how to keep their own body healthy and fit while making sure they feel good in every way.
Healthy exercise and a fast recovery.
It's aimed at strengthening the backs of athletes and office jockeys: the Chirotractor CT-L. But the developers at Co-Lifetech GmbH don't just claim their new training device can make people stronger, they also say it can relieve tension and vertebral blockages and ease about 90 per cent of all non-specific pain. Ready to be used preventatively and therapeutically, this holistic approach offers an opportunity to complement existing gym equipment in a meaningful way.
Bringing a smile to every spine, is how Dr. Tanja Kühne describes her vision. To realise it, the sports scientist, through her company Ballance Concepts GmbH, has launched twin balls with a special spring construction. During the corresponding exercises, the flexible balls are supposed to contour to the individual body shape, then find their way back to their original structure. That's how they're able to relax the muscles of the thoracic spine and relieve the intervertebral discs, she says.
The therapy cones by TMX Trigger GmbH are aimed at individual trigger points. The handy helpers are specifically designed to serve as everyday companions. Always ready, they deploy intense acupressure stimulation to make muscle tension disappear and release myofascial adhesions.
Twistfit aspires to be a complete gym that fits in a handbag or trouser pocket. The special rope with two loops and a silicone ring in the middle enables tensile forces and develops rotational forces intended to get the body moving, even at work or in front of the TV. The device equally addresses all larger groups and the deep-seated muscular system, promises manufacturer Siebeneicher Sport Products, adding that the mobile trainer can be used when exercising for health and when preparing for competitions.
When the legs are tired after an intense fitness programme, Reeboots by Juara Internet UG work like a gentle alarm clock, says the manufacturer, who also promises that the massage boots create a pleasant massage via tight-fitting air chambers. Metabolic waste products created during training are removed, which promotes regeneration. In the smaller and lighter version with a rechargeable battery, the calf massagers are now also supposed to fit into competition bags.
Odourless equipment and lightweight mirrors
Sweating simply is a part of exercising. Nevertheless, we don't want people to get a whiff of our hard work. To ensure a good climate at the gym and in everyone's sports bag, Benefits4you has developed a refresher on a special mission. 3Athlet is supposed to do three jobs at once: the hygienic spray doesn't just neutralise odours, it also cleans and disinfects the equipment and surfaces, the company assures us. When it comes to the ingredients, the product does away with alcohol and aldehyde, plus it's skin-friendly and definitely a clean affair.
Looking at your reflection in the mirror tells you immediately whether you've done an exercise right or whether you need an urgent correction. Enabling critical self-observation, Hartge Leichtspiegel GmbH has developed a system that makes it easy to transform a gym into a hall of mirrors. The company says the foil-covered aluminium frame with its rigid-foam core isn't just shatterproof but also light as a feather and low-maintenance.
Strong body and a powerful voice
Making children and adolescents strong is the core of a new concept by Altrabeco Consulting UG. Dubbed "Taffe Tiger", it's supposed to get 5- to 14-year-olds moving while building their character all at the same time. The method blends elements from football, basketball, brain and learning training, fitness, and relaxation. The goal is not just to give participants a new feel for their body but also to make them more concentrated, creative, receptive and resistant to stress.
The workout programme developed by Charles Simmons gets you in shape for your big performance. In it, he's combined his own experiences as a singer, voice coach and fitness trainer in such a way that the exercises train the voice, mind and body. He says he works with artists like Alice Merten, Marius Müller-Westernhagen and Vanessa Mai to continuously improve them in order to boost the charisma and stage presence of the participants.
Protein lemonade and fitness dishes delivered
After a sweat-inducing workout unit, the body needs nothing more than fluids. Protein is the key building block in ensuring that the muscles we built by working out so hard are retained and, if possible, continue to grow. But creamy shakes and dry bars don't always hit the spot when it comes to the athletes' taste. From now on, a protein-containing lemonade is supposed to quench their thirst, all while refilling their reservoirs. "We've gotten rid of sugar and artificial flavours in order to reduce calories to a minimum", says Philip Kleiner from Essential Eight GmbH. He cares a great deal about sustainability, including in the packaging. That's why the beverage is available exclusively in recyclable bottles made from maize. "Compared to plastics, they're eco-friendly and, unlike glass, they're not fragile."
Taste also plays a decisive role for Anja Licht and her startup Paulikocht. The founder develops recipes for people who travel a lot but want to nevertheless pay attention to healthy eating. And she adds the right kinds of seasonings to her creations. Here's a sampling: Bowl it like Budda, Zimtluder, Ciao Ragazzi. Bread and cake mixes with equally resounding names complete the product portfolio; long-term, the plan is to expand it with simple meals from a glass jar.
Prepmymeal is a company that delivers healthy meals people can order right to their front door or workplace. The founders, Kevin Schmid and Jonas Noyon, let their customers choose whether they want to put together their personalised lunch or dinner or select their favourite dishes from the muscle-building, weight-loss or power box. Before preparation, they say, the ingredients are put on a scale to meet individual requirements. Once they're done, the meals are sent on their journey to the customer fresh from the pot and properly refrigerated.
About FIBO
It's the world's largest international trade show for fitness, wellness and health: the market leaders of the industry meet at FIBO in Cologne to present themselves and their new products. This is where companies set international trends. This is where the industry comes to invest. In 2018, 1,133 exhibitors participated, meeting more than 143,000 international trade and private visitors from 120 countries. In 2019, FIBO will take place at the Exhibition Centre Cologne from 4 to 7 April. Kicking off the trade show on 3 April 2019 will be the 6th European Health & Fitness Forum, a meeting 400 leading representatives of the European fitness sector are expected to attend.
www.fibo.com
- - - Updated - - -
From clean eating to the psychology of eating: Nutrition trends for better fitness at FIBO
21 March 2019
Nutrition trends for better fitness at FIBO | Nutrition trends for better fitness at FIBO
View attachment 23652
Recognising the links between nutrition and fitness
Cooking with Sebastian Morgenstern and Sophia Thiel
Clean eating, paleo, sugar-free and vegan nutrition concepts are ultra-trendy right now. At FIBO in Cologne from 4 to 7 April 2019, more than 200 international key players and newcomers from the nutrition segment will illustrate how each way to eat helps people to reach their individual goals. Plus, the supporting programme will feature experts who'll explain the interplay of nutrition and exercise. In the Live Cooking Area, the likes of Sebastian Morgenstern and Sophia Thiel will be preparing meals for FIBO visitors.
Nutritional supplements with a twist.
The world of fitness supplements no longer consists of just shakes and protein powder. With Essential Eight and Scraegg, for example, two industry newcomers will show that you can also load up on valuable proteins in the form of lemonade or 15-second scrambled eggs. And if you prefer heartier sources of protein, the beef jerky manufacturer Jack Link's has what you covet. Those with a sweet tooth can stop by the Dr. Oetker stand to experience the taste of pudding that's sweetened with agave syrup instead of sugar. Awaiting them there will be the expanded PurVi assortment in flavours ranging from chocolate and bourbon vanilla pudding to whole-grain semolina pudding in various fruit combinations.
As another key player, Orthomol will present the Orthomol Sport family at FIBO. It's aimed at supporting athletes with the right nutrient combinations in every phase from preparation to recovery. BRAINEFFECT, too, helps professional and amateur athletes to recharge their batteries after an intense workout unit, all thanks to a formula made from different amino acids and B vitamins, plus magnesium and zinc. Find all these nutritional innovations in Hall 4.2. Altogether, about 60 visitors will be here to showcase their highlights for all those who care about the right nutrition to accompany their exercise programme. Halls 10.1 and 10.2 will feature about 150 additional exhibitors with a focus on nutrition, including Weider, Ironmaxx, Rocka Nutrition, Yamamoto and Energy Cake.
FIBO CAMPUS: Expert tips for a better performance
Whether you care about the right nutrition for muscle injuries, performance enhancement tips, or the psychology of eating and molecular genetics for individual nutritional planning, the FIBO CAMPUS, the concurrent FIBO congress, will answer numerous questions revolving around nutrition. Especially on Thursday, 4 April, and Saturday, 6 April, visitors with an interest in nutrition will get their money's worth. The key for the campus: book the whole day and put together your own class schedule according to your interests. Other exciting topics on the agenda besides Nutrition include Physio, Therapy & Training, Aqua Fitness and Step & Dance. The participation fee of €99.00 already includes your FIBO admission ticket. For an overview of the programme, click here:
www.fibo.com/campus
.
Moderated live cooking
On all four trade show days, FIBO visitors can stop by the Live Cooking Area in Hall 10.1 to experience the taste of clean eating, superfoods, low carb, and vegan and sugar-free cooking. Lunch Vegaz, Xucker, QUARANTA, Virginia Health, Sayano Deutschland and ROUSSEL are just a few of the exhibitors on hand to reveal how to best prepare their products. Other guests include Sebastian Morgenstern, famous from the TV show "Mein Lokal, dein Lokal" (My Restaurant, Your Restaurant) on German cable channel Kabel 1, Sophia Thiel and Shape Republic, and Shirin Nikkhah-Shiarzi, the chef known from "The Biggest Looser". They all will demonstrate their cooking skills live. Afterwards, it's the audience's turn to taste their culinary creations.
Guided tours for trade visitors
Trade visitors interested in getting an overview of FIBO's nutrition-related selections can take part in a guided tour. The tour starts at 11:00 am on Friday, 5 April, and departs from the VIP Lounge in Hall 5.2, Stand A10. The tour stops at numerous stands of exhibitors with a focus on nutrition. Online registration is available at:
www.fibo.com/guidedtours
.