MuscleMecca Crew
MuscleMecca Crew
VIP
Author
Joined

May 11, 2012
Messages

3,102
Points

63
Here are all the competitors who have qualified so far for the 55th Olympia! The 2019 Mr Olympia! Keep checking back because we will be updating this list.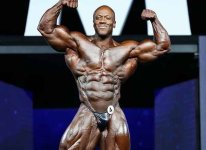 2019 Olympia Open Points

Cedric McMillan (USA), 16
Luke Sandoe (UK), 14
Nathan de Asha (UK), 8
Lucas Osladil (Czech Republic), 7
Pavel Beran (Czech Republic), 6
Andrea Presti (Italy), 6
Josh Lenartowicz (Australia), 6
Samson Dauda (UK), 5
Mohamed Shabaan (Egypt), 3
Andrea Muzi (Italy), 2
Mohsen Samadi (Iran), 1
Brad Rowe (USA), 1
2019 Mr. Olympia Competitors
Shawn Rhoden (USA)
Phil Heath (USA)
Roelly Winklaar (Curacao)
William Bonac (Netherlands)
Brandon Curry (USA)
Dexter Jackson (USA)
Clarence De Vis (Belgium)
Maxx Charles (USA)
2019 Olympia 212 Points
Tomas Tabaciar (Slovakia), 16
Samir Troudi (Sweden), 7
Vahid Baharlou (Iran), 6
Vojtech Koritensky (Czech Republic), 5
Derik Olsan (USA), 4
Justin Wessels (Australia), 4
Maysem Keskvari (Iran), 3
Oswaldo Gonzalez (USA), 3
Dobromir Delev (Bulgaria), 3
Dwayne Quamina (USA), 3
Zoran Kolevski (FYROM), 3
Pierre Chamoun (Sweden), 3
Milton Martinez (Puerto Rico), 2
Mahmut Irmak (Turkey), 2
Kim Jun Ho (Korea), 2
Jamie Dorego (UK), 2
Daniel Alexander (USA), 1
Sandro Ramirez (Dominican Republic), 1
Radoslav Angelov (Bulgaria), 1
Benjamin Parra (Mexico), 1
2019 Olympia 212 Competitors
James Lewis (UK)
Derek Lunsford (USA)
Kamal Elgargni (Libya)
Ahmad Ashkanani (Kuwait)
Jose Raymond (USA)
Hadi Choopan (Iran)
Shaun Clarida (USA)
Angel Calderon Frias (Spain)
David Henry (USA)
Kokeny Bela (Hungary)
Aaron Polites (Australia)
- - - Updated - - -
Here are more competitors who have qualified for the 2019 Olympia.
2019 Olympia Classic Physique Points
Tomas Tabaciar (Slovakia), 16
Samir Troudi (Sweden), 7
Vahid Baharlou (Iran), 6
Vojtech Koritensky (Czech Republic), 5
Derik Olsan (USA), 4
Justin Wessels (Australia), 4
Maysem Keskvari (Iran), 3
Oswaldo Gonzalez (USA), 3
Dobromir Delev (Bulgaria), 3
Dwayne Quamina (USA), 3
Zoran Kolevski (FYROM), 3
Pierre Chamoun (Sweden), 3
Milton Martinez (Puerto Rico), 2
Mahmut Irmak (Turkey), 2
Kim Jun Ho (Korea), 2
Jamie Dorego (UK), 2
Daniel Alexander (USA), 1
Sandro Ramirez (Dominican Republic), 1
Radoslav Angelov (Bulgaria), 1
Benjamin Parra (Mexico), 1
2019 Olympia Classic Physique Competitors
Jason Lowe (USA)
Chen Kang (China)
Fabio Lopes (Portugal)
Breon Ansley (USA)
Chris Bumstead (Canada)
George Peterson (USA)
Henri-Pierre Ano (Canada)
Arash Rahbar (USA)
Stan de Longeaux (USA)
Ahmad Ahmad (Iraq)
Dani Younan (USA)
Panexce Pierre (USA)
Rylon McDuell-Batiste (USA)
Damion Ricketts (USA)
David Hoffmann (Germany)
Woilid Baatout (France)
Last edited: