DriDDeRz
Mecca V.I.P.
VIP
Joined

Jul 19, 2006
Messages

13,376
Points

38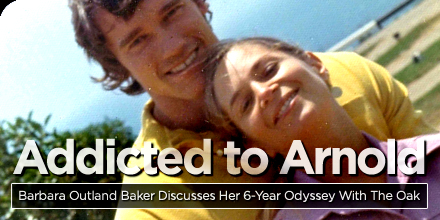 Link:
http://www.bodybuilding.com/fun/arnold_ex_girlfriend_interview.htm
The Story is very long, the rest is located on the link Above

Addicted To Arnold:
Barbara Outland Baker Discusses Her Six-Year Odyssey With The Oak
When 19-year-old Barbara Outland was approached, and asked out, by a massive young Austrian at the San Diego delicatessen she was hostess at, she could not in her wildest dreams have known the impact this man with "the creepy muscles" would have on her.

"You are so sexy; I want to ask you out on a date," said a typically forward Arnold Schwarzenegger, a current Mr. Universe and a future king of bodybuilding, a man for whom the opposite sex provided the sexual nourishment he constantly sought. Barbara accepted. "I knew I would have a wild ride with him," she would later say.

July 1969 marked Arnold and Barbara's first meeting at the delicatessen. A straight-laced conservative, an intellectual known for her sophistication and old-world values, Barbara was an unlikely match for the huge Austrian, a man widely described at the time as a charming lady killer whose life revolved around the pursuit of building massive muscles.

Their six year relationship proved to be extremely tumultuous and emotionally, spiritually, intellectually and physically fulfilling for both.

Often seen, at the time, as a socially inept vulgarian with few social graces, a dialogue consisting of a few words of broken English oftentimes peppered with expletives, Arnold presented a persona diametrically opposed to that of Barbara. Yet, as their relationship progressed, both saw this union as positive and promising. In many ways they were good for each other.

With Barbara, Arnold had a full-time English teacher and politically and socially aware woman who could help him become successful in many ways, to become aware himself of the social nuances needed to endear himself to the comparatively sophisticated American cultural milieu he had found himself immersed in.

In Arnold, Barbara had the perfect opportunity to experience life to the fullest, to quell her rebellious side and, at the opposite end of the scale, to provide love and support for a man she grew to love.