MuscleMecca Crew
VIP
Author
Joined

May 11, 2012
Messages

2,970
Points

48
This is really interesting! The Arnold Classic now has an MMA Promoter! Keep reading!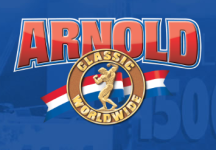 Activities to Include Mixed Martial Arts Bouts, Fighter Workouts and Athlete Meet & Greet
January 26, 2018 08:00 AM Eastern Time
NEW YORK--(EON: Enhanced Online News)--Alliance MMA, Inc. ("Alliance MMA" or the "Company") (NASDAQ: AMMA), the only publicly-traded professional mixed martial arts ("MMA") company, which unifies elite regional promotions and aspiring MMA champions, announced today that the Company has been designated by the Arnold Sports Festival as its Official MMA Promoter.
"The Arnold Sports Festival is proud to be partnering with Alliance MMA"
Throughout the event, the Company will be prominently featured through fighter meet and greets, open workouts, and onsite weigh-ins, culminating in a live, multi-bout mixed martial arts fight card on Saturday March 3rd. The Arnold Sports Festival, Alliance MMA's inaugural corporate branded event, will showcase amateur athletes, professional fighters, future superstars, as well as seasoned veterans who have previously competed for The Ultimate Fighting Championship and Bellator.
"The Arnold Classic Worldwide brand includes the largest series of multi-sport festivals in the world, and we are looking forward with great anticipation to maximizing our corporate exposure through participating in this distinguished opportunity," said Paul K. Danner, Chief Executive Officer of Alliance MMA, Inc. "To date, we have primarily focused on promoting our ten regional MMA properties by name, but we believe this unique event offers the ideal platform to promote the Alliance MMA brand in front of hundreds of thousands of fans, and we anticipate pursuing similar opportunities, both domestically and internationally, in the future."
Celebrating its 30th anniversary, the Arnold Sports Festival is co-promoted by legendary bodybuilder and film star Arnold Schwarzenegger, and has expanded into the world's largest multi-sport fitness weekend event since it debuted in 1989 as the Arnold Classic, a one-day professional men's bodybuilding competition. This year, more than 200,000 sports fans are expected to watch over 20,000 athletes, from 80 nations, compete in a record 75 sports and events to be held at the Greater Columbus Convention Center, Ohio Expo Center, Hilton Columbus Downtown, EXPRESS LIVE! Pavilion and Hollywood Casino Columbus.
"The Arnold Sports Festival is proud to be partnering with Alliance MMA," said Bob Lorimer, President of the Arnold Sports Festival. "Alliance MMA is a strong national brand known for finding and developing the next generation of world-class MMA fighters. We are excited for this partnership, and hope everyone will come join us at the Arnold Sports Festival for these great fights."
In 2018, the Arnold Sports Festival will feature world-class bodybuilding, strongman, weightlifting, and many combative events including more than 20 martial art disciplines, pro-am boxing, and grappling. The center of the action will be inside the Arnold Fitness EXPO with 1,000 fitness related booths, non-stop competitions and other live stage entertainment. The 17 Olympic sports featured at the Arnold Sports Festival this year include archery, boxing, equestrian, fencing, gymnastics, handball, judo, karate, rowing, a 5K run, soccer, swimming, table tennis, taekwondo, tennis, triathlon and weightlifting. Visit arnoldsportsfestival.com for more information.
Alliance is Building a Nationwide Presence
Alliance MMA currently promotes MMA events in 13 of the top 30 Nielsen Designated Market Areas, including each of the top five. With the goal of unifying elite regional promotions and fostering the development of aspiring MMA champions, the Company produces professional MMA events through New Jersey-based Cage Fury Fighting Championship, Washington-based Combat Games MMA, Indiana-based Hoosier Fight Club, Tennessee-based V3Fights, Maryland-based Shogun Fights, Ohio-based Iron Tiger Fight Series, Florida-based Fight Time Promotions, Georgia-based National Fighting Championship, Southern California-based SoCa Fights, and Nebraska-based Victory Fighting Championship.
About Alliance MMA, Inc.
Alliance MMA (NASDAQ: AMMA) is a professional mixed martial arts (MMA) company that brings together the best regional productions. Alliance MMA's mission is to identify and cultivate the next generation of fighters and champions for the Ultimate Fighting Championship (UFC) and other premier MMA promotions.
With some of the world's leading MMA promotions under the Alliance MMA umbrella, the organization aims eventually to host in excess of 125 events per year, showcasing more than 1,000 fighters. Alliance MMA is also dedicated to generating live original sports media content, attracting an international fan base, and securing major brand sponsorship revenue for live MMA events, digital media, and Alliance MMA fighters.
MMA is the world's fastest-growing sport with worldwide fans of approximately 300 million according to sports marketing research firm Repucom. MMA is a full contact sport that allows a wide range of fighting techniques, including striking and grappling from various martial arts and disciplines including boxing, wrestling, Brazilian jiu jitsu, karate, and Muay Thai. Professional MMA fights are legal and regulated by state athletic commissions in all 50 states.
Alliance MMA, Inc. was formed in 2015 for the purpose of acquiring businesses that engage in the promotion of MMA events. In 2016, the company completed an initial public offering that culminated in a listing on the NASDAQ stock exchange. Alliance MMA is the only MMA promotion company that is publicly-traded.
For more information, visit
www.alliancemma.com
.
Forward-Looking Statements
This press release contains forward-looking statements within the meaning of the federal securities laws. These statements relate to anticipated future events, future results of operations or future financial performance. In some cases, you can identify forward-looking statements by terminology such as "may," "might," "will," "should," "intends," "expects," "plans," "goals," "projects," "anticipates," "believes," "estimates," "predicts," "potential," or "continue" or the negative of these terms or other comparable terminology. Actual results may differ materially from historical results or those indicated by these forward-looking statements as a result of a variety of factors including, but not limited to, those discussed under the heading "Risk Factors" in our Annual Report on Form 10-K for the year ended December 31, 2016 filed with the Securities and Exchange Commission on April 17, 2017. Alliance MMA encourages you to review other factors that may affect its future results in its other filings with the Securities and Exchange Commission.
Contacts
Alliance MMA, Inc.
Media:
James Byrne, 212-805-3005
jbyrne@alliancemma.com
or
Investors:
James Platek, 212-739-7825
jplatek@alliancemma.com
News Source:
https://www.enhancedonlinenews.com/news/eon/20180126005146/en