Joined

Jul 15, 2006
Messages

11,407
Points

38
While I was looking for pics for my celebrity photo thread I came acros a site which is where a lot of these pics come from and thought it would be interesting to have a thread devoted to photo's that define an era, or just capture a moment , or have an emtional effect or are indicative of any number of things.
Take the time to read about the origin of these pics and feel free to add your own pictures that define an era or you find impressive, moving or whatever: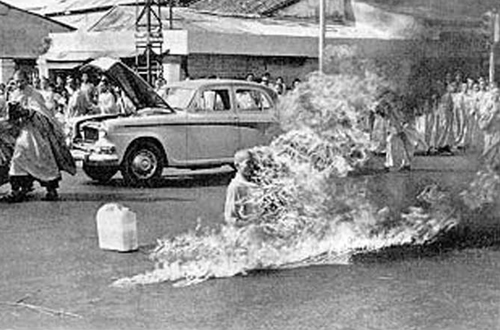 June 11, 1963, Thich Quang Duc, a Buddhist monk from Vietnam, burned himself to death at a busy intersection in downtown Saigon to bring attention to the repressive policies of the Catholic Diem regime that controlled the South Vietnamese government at the time. Buddhist monks asked the regime to lift its ban on flying the traditional Buddhist flag, to grant Buddhism the same rights as Catholicism, to stop detaining Buddhists and to give Buddhist monks and nuns the right to practice and spread their religion.
While burning Thich Quang Duc never moved a muscle.