Arnold goes uder the knife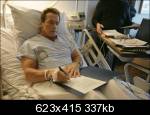 Governor Arnold Schwarzenegger had arthroscopic surgery to repair a knee he injured about two weeks ago while working out, the second time he's been under a doctor's knife in 20 months, his office disclosed Sunday.
Schwarzenegger spokesman Matt David said the governor was in good spirits after Saturday's operation and attended church the next day, walking without assistance. The surgery on his torn meniscus was performed after the former bodybuilding champion pulled out of an environmental forum to have the right knee examined.
Schwarzenegger was under anesthesia for about 45 minutes, during which time the powers of office were transferred to Lt. Gov. John Garamendi, as required by law.
David described the surgery as minor.
"He said the surgery went well," David said. The knee "was just giving him a lot of discomfort."
The 61-year-old actor-turned-politician has suffered numerous physical injuries over the years, most recently when he shattered his femur during a skiing accident in December 2006 that also required surgery.
The seven-time IFBB Mr. Olympia also has had a hip and a heart valve replaced, and had rotator cuff surgery in 2003. He also suffered several broken ribs in a 2001 motorcycle crash and had 15 stitches after another such crash in 2006.
Schwarzenegger's office said he was reviewing treatment options with his doctor.

Taken from:
http://insidebodybuilding.blogspot.com/