Big04pimpin
Mecca V.I.P.
VIP
Joined

Nov 28, 2006
Messages

1,778
Points

38
Hey Guys, IronMagLabs is sending me three bottle of their 1-Andro RX product that they have out. There claims are as follows:
Increases Lean Muscle Mass
Increases Strength & Power
Does Not Convert to Estrogen or DHT
No Bloating or Water Retention
Converts to 1-Testosterone
7 X the Anabolic Potency of Testosterone
Pharmaceutical Grade 1-Androsterone
I will be getting the bottles in sometime this week and will start the log the following week. I have already started to do a primer for the cycle. I have been doing cardio 4x's a week which is helping me drop a little un-needed weight. I will be taking 6 caps a day which will be 2 in the morning(7 am), 2 at lunch(noon), and two at 6pm (right before the gym). I will be posting up a overview of my diet, which will be pretty much if I hit all my meals or just slacked for some reason. Also, I will be posting my training and how it went. It should be awesome if this lives up to the hype. I have taken M1T, Superdrol, Havoc and many other pro-hormones that have been out so we will see where this stacks up to them.
As for PCT, I am unsure how I am going to go about it. I have clomid, nolva, letro, armidex, prami, AIFM, and casaber on hand in case of any need. I do not think I will use HCG since its only a 4 week cycle, but I do have it also on hand.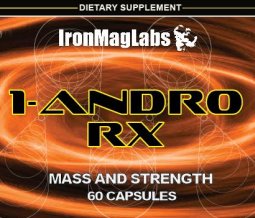 http://www.ironmaglabs.com/1-andro-rx-prohormone.php