Kayce
Well-known member
VIP
Author
Member
Joined

May 22, 2015
Messages

157
Points

28
Nicknamed at various times as The Shadow, The British Bulldog and the Beast of Britain, he rose from a very humble and rascal beginning to become what we now know today as the biggest and greatest of the world's Professional Bodybuilders; practically making all other bodybuilders inferior and giving them a run for their bodies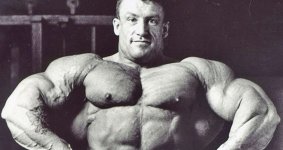 Christened
Dorian Andrew Mientjez Yates
and born some 51 years ago, precisely April 19, 1962, he was raised in Hurley, in rural Staffordshire. He moved from there to a farm near Birmingham, Britain's second largest city alongside with his family as a teenager.
He is who you know today as Dorian Yates.
A rough beginning to start with, Dorian is one who had a tough history as well. Or how do you describe this?
Dorian lost his father at age 42 from a heart attack when he was only 13 years of age. Probably due to his ignorance of what really happened at the time, Dorian got himself deeply involved with a skinhead gang at age 16 and enjoyed the deadly Sex Pistols, the Clash and the PIL; alongside working as a boy in a slaughterhouse.
It was therefore no surprise when he was arrested three years later and sentenced to a 6-month term at the Whatton Youth Detention Centre.
Not one to let go of his in-born skills, Dorian got an instant recognition for himself courtesy of his bodybuilding ability when he landed at the correctional facility and was adjudged the strongest and fittest of Whatton's over 300 inmates; he thus made a mark for himself there which unknown to him already kick-started what he will later be globally recognized and compensated heavily for.
Though, he discovered his skills at Whatton, it would be life-truncating and short-sighted enough if he thought that the reputation he has earned for himself could only have any value with his fellow inmates and never get out of the prison doors; he could rise to become known, famous and serve as role models to a million others, as he later got to discover.
By the time he was 21, he had already carved a niche for himself, commenced professional lifting routines and thus went on to clinch the 1st prize at the Mr. Birmingham Championship (Novice Category) in 1984, grabbed the 1st position also the following year at the West Coast (England) Championship and moved on to the professional leagues when he grabbed the 7th position same year at the 1985 World Games in London.
The job came with the fun or that he never toyed with life outside the gym;
Either of these two descriptions would aptly explain how and why he met his future wife Debbie Chin in the January of 1983 and they both had Lewis, their son May of the following year.
Onward till date, Yates has been a professional bodybuilder par excellence.
Right after the London World Games in 1985, he went on to compete in well over 16 diverse competitions of top levels even up to 1997 and you'd be bewildered to hear this:
The least he had in any of those championships was a 2nd slot. Most of his outings, 12 in all were 1st place rankings for him while others were 2nd slots; one of the latter was his first
Mr. Olympia
record in 1991. He later got the Mr. Olympia awards consecutively in 1992 and 1993.
Dorian is reputed to be the only man in the world to have won the Mr. Olympia World Record Bodybuilding title 6 times in a row – oh, did you say "Boy, that was record-smashing!"
Well you can say that again!
Yates has moved on to invest in
professional bodybuilding
classes in his home country by acquiring the Temple Gym in England and he currently lives in Walmley, Sutton Coldfield, England with his family and two dogs, Conan and Samson.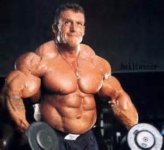 Please do your best to support our
awesome bodybuilding sponsors!
Last edited by a moderator: