Daniel Andersson
Mecca Mod (not)
VIP
Joined

Oct 30, 2006
Messages

8,441
Points

38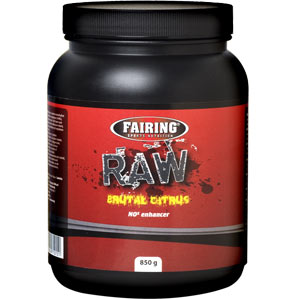 (100g)
Energy: 184 kcal
Protein: 0 g
Carbs: 46 g
Fat: 0 g
Dextros
Creatine Monohydrate
Inositol
Arginin alfa-ketoglutarat (AAKG)
Beta alanin
Citrulin malat
(ALA) magnesium
potassium /sodium matrix
aroma (Aspartame, contains one Fenylalanin source)
Silica dioxide
Taste - 6/10
The initial taste was good, but after a few sips, it started to taste worse for every sip. I can also feel a bad taste in my mouth over 1 hour later.
Feeling - 8/10
Just a couple of minutes after finishing the drink I could feel a warm feeling over my whole body, which was intensified during my workout.
Pump - 8/10
I got a really nice pump, maybe to much since it hurt after a while.
Quality - 7/10
I took 50g and dumped it in 17 oz water, and it mixed great, I moved the shaker around 5 times and it was mixed
A little log on how I felt using it for the first time
1min
First impression is good, initially good taste, but after a few sips my mouth feels dry and it doesn't taste so good anymore..
5mim
I can feel a weird taste and a dry feeling in the upper part of my mouth. A warm feeling around my chest and neck.
6min
My face is starting to heat up.
7mim
I´m starting to feel warm all over. I can feel knitting as well.
10min
More knitting, almost like a full body itch, but still not a itch..hmm
15min
I can see how my skin gradually is getting more red
20min
I feel like I have a really bad fever, that's how hot I feel right now, and the "itching" is getting more intense. Not chickenpox itchy though..LOL

25min
Feels even warmer, the "itching" is the same as 20min in.
I can see some veins on my arms!? That hasn't happened for some time, but just on my forearms before, this time its in my biceps..nice!
30min
Feeling jacked!..or close to it
Gearing up for my session
45min
2 sets in doing concentration curls. I can feel that my strength has gone up a notch or two
But the thing that most noticeable ….
IM FREAKING HOT
and the itching is "worse"
Feeling a good pump coming also
50min
I was right….here's the pump, not as good as I would've hoped, but much better then I have felt the last weeks.
60min
Some people are punished by god instantly….my arms hurt from the pump I have right now.
Its harder doing dips then last week, just because of the pump.
70min
Just done with my final set of DB rows, and the pump was good here also, not as good as in the arms, but still better then normal.
I recommend this product for those who can get their hands on it. I still feel warm from it and I still have a pump, and its over 2 hour since I finish my session