Joined

Apr 10, 2014
Messages

4,217
Points

83
I am wondering if this was a member here. What do you guys all think of this? It's a musclemecca member? This dude is one crazy shit! Maybe too much tren dude! Attacking your girl is bad enough but then you had to piss on her stuff? WTF?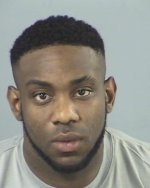 Former bodybuilder Pius Abrahams 'attacked girlfriend and urinated on her possessions' before police chase


A FORMER bodybuilder led police on a chase through Southampton after beating his girlfriend in front of parkgoers, a court has heard.
Pius Abrahams tried to evade police capture after he dragged his long-term partner across a path by her hair and urinated on her belongings in Mayflower Park.
The 26-year-old also threatened those trying to intervene, telling them "I will kill you".
However, at Southampton Magistrates' Court, Abrahams denied the charge of assault by beating during the incident on July 27.
The court heard from a witness who saw Abrahams attacking his girlfriend while she sat in the passenger seat of his car.
"She was stuck down on the centre console [of the car] as Abrahams was on top of her and slapping her face," he told the court.
The witness then phoned the police, but the couple's argument escalated.
Abrahams emptied the contents of his girlfriend's bags onto the pavement and urinated on them.
However, this is something he strongly denied, adding he urinated next to her possessions –for dramatic effect – not on them, as Ms Riley threw his new shoe in the bin.
The court heard that an increasingly angry Abrahams then dragged his girlfriend by her hair, across the park's path. He then told a witness who had stepped in, with a friend, to try and help – "I will kill you".
At this point the police arrived, and Abrahams jumped into his car.
Then, as PC Natasha Rawlings demanded the 26-year-old exit the vehicle, he sped off, shouting obscenities at her.
A high-speed chase followed as he led officers through residential streets in and around Shirley. He then lost police after heading down Darwin Road.
However, Abrahams was then involved in a collision on Landguard Road after smashing into several vehicles on Hill Lane.
Fleeing the vehicle, he was then arrested after being spotted crouched behind a car in Hill Farm Road.
Asked why he fled the scene, the defendant responded: "I was going to get arrested anyway as it has happened before, without the police even asking me any questions."
Abrahams, of Lynmouth Road, London, was found guilty of assault by magistrates and sentenced at Southampton Crown Court to 16 months in jail along with a driving ban of two years and eight months.
He had previously pleaded guilty to dangerous driving, possession of cannabis, failing to stop and driving with no license and no insurance. These were included in the sentence.
News Source:
http://www.dailyecho.co.uk/news/155..._on_her_possessions__39__before_police_chase/