TalkAdmin
Administrator
Staff member
Staff
Member
Joined

May 27, 2010
Messages

5,437
Points

83
Birth Date: July 16, 1965
Birthplace: Baltimore, MD
Height: 5'11"
Competition Weight: 240 lbs.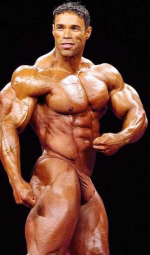 Know as:
Kevin Levrone Maryland Muscle Machine
The Uncrowned king of Mr. Olympia
Acted in movies:
2006
Backlash
2007
Redline
Kevin Levrone earned 22 professional IFBB wins! He won the Arnold Classic twice in 1994 and 1996, and came in 2nd place at Mr.Olympia four times over a 10 years (1992, 1995, 2000 and 2002). Many thought he should have came in 1st in some of those.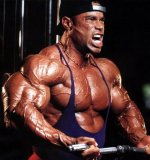 Kevin Levrone Competition List:
2002 Mr. Olympia - 2nd
2002 AUSTRALIA PRO INVITATIONAL - 4th
2002 IFBB Arnold Classic - 5th
2001 British Grand Prix - 1st
2001 England Grand Prix - 1st
2001 MR OLYMPIA - 3rd
2000 MR OLYMPIA - 2nd
2000 Arnold Classic 3rd
1999 Grand Prix England 3rd
1999 Joe Weiders Pro World 3rd
1999 Mr. Olympia 4th
1999 Arnold Schwarzenegger Classic 2nd
1998 Mr. Olympia 4th
1997 Arnold Schwarzenegger Classic 8th
1997 Grand Prix Russia 2nd
1997 Grand Prix Spain 1st
1997 Grand Prix Czech Republic 1st
1997 Grand Prix England 1st
1997 Grand Prix Finland 1st
1997 Grand Prix Germany 1st
1997 Grand Prix Hungary 1st
1997 Mr. Olympia 4th
1996 Arnold Schwarzenegger Classic 1st
1996 Grand Prix Czech Republic 2nd
1996 Grand Prix England 4th
1996 Grand Prix Germany 3rd
1996 Grand Prix Switzerland 3rd
1996 Mr. Olympia 4th
1996 San Jose Pro Invitational 1st
1995 Grand Prix England 2nd
1995 Grand Prix Germany 1st
1995 Mr. Olympia 2nd
1994 Arnold Schwarzenegger Classic 1st
1994 Grand Prix Germany 2nd
1994 Grand Prix England 2nd
1994 Mr. Olympia 3rd
1993 Mr. Olympia 5th
1992 Mr. Olympia 2nd
1992 Night Of Champions 1st
Kevin Levrone
Last edited: