MuscleMecca Crew
VIP
Author
Joined

May 11, 2012
Messages

2,967
Points

48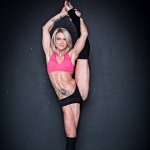 Giorgia Foroni
My sports career started at age 6 with classical dance. After about a year, thanks to my mom, I started a very long agonistic career in rhythmic gymnastics, a discipline that literally made me fall in love and dream, which allowed me to form body, mind and spirit and gave me the opportunity to Limestone important footpaths at national and international level. After all 20 years, after numerous victories and satisfactions, I decided to retire from gymnastics to dedicate myself to the study. I joined the faculty of business economics at the same time, after graduating with Fif, I started working in some gyms in Verona and in the province as an aerobics and step teacher. University studies have been interrupted for a period during which the instructor work at the gym has grown up, occupy me almost every day.
In 2007 I became the mother of a beautiful child; During pregnancy I resumed my economics studies and graduated in 2009 while I was expecting the second child.
I was killed after I started working in the field of fitness, focusing mainly on studying and practicing the Pilates method. I have created my own personal and group personal development method, of which I am writing a thesis for qualifying top pilates trainer in Fif.
In 2012 I decided to question myself as athlete and I was looking at the world of body building, participating as a routine fitness athlete in the most internationally recognized IFBB federation. Successes arrived quickly, until in 2015 in Ohio, directly from the hands of Arnold Schwarzenegger, the much-striking professional card, recognition that every bodybuilding athlete dreams of having.
Hence the will and the pleasure of following a healthy and balanced lifestyle, and the desire to pass on my experience and personal knowledge to anyone who decides to feel fit.
STUDY AND SPORTS TITLES
International rhythmic gymnastics agonist 1987/1998 (Institution Bentegodi Verona C.O.N.I.)
Bachelor of Business Administration 2007
Step Instructor, Aerobics, Body Pump, Toning (Fif)
Personal Trainer Functional (YPC)
Kettlebell Training Instructor (YPC)
Spinning Teacher (Race F. Moser)
Pilates matwork base and advanced pilates, pilates with little exercise, pilates in pregnancy and old age, pilates one to one, pilates with reformer (Fif)
Personal trainer (Fif) Fitness Athlete IFBB PRO
IFBB Competition RESULTS
Curriculum fitness amateur races Ifbb:
• 2013 vicecampioness Italian championships Ifbb
• 2013 third ranked Arnold Class Europe
• 2014 Fourth ranked Arnold Classic Columbus
• 2014 Sixth ranked European Championships Ifbb
• 2014 Italian Champion Ifbb
• 2014 First Calibrated Arnold Classic Europe
• 2014 Sixth Qualified World Championships Ifbb
• 2015 absolute champion Fitness Arnold Classic Columbus
Source Translated from
http://www.giorgiaforoni.com/biografia.html