Joined

May 20, 2007
Messages

5,455
Points

38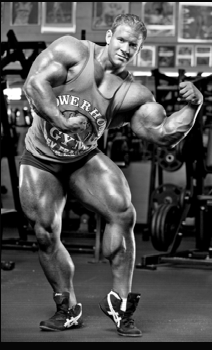 Jeff Long, the man that Steve Blechman describes as "
Jay Cutler
Jr. with Paul Demayo calves", has officially penned an exclusive contract with Team Muscular Development. On June 14th of this year, the 24-year old New Jersey native will be entering the much anticipated NPC Jr. Nationals which will also feature rising star, 2006 NPC Excalibur overall champ, Trey "The Phenom" Brewer. This onstage battle should help infuse new interest into the sport of bodybuilding and help to usher in a new era of young upcoming champions. What's even more interesting is that both men will also be entering this year's USA Championships in Las Vegas, NV on July 28th and 29th in hopes of earning their IFBB Pro cards. Only time will tell if this "clash of titans" will prove to be the epic battle it's lining up to be on paper. Either way, the anticipation is worth the price of admission!
At only 5' 6" tall, Jeff has weighed as much as 285lbs in the offseason and he's packing a freakish-looking 245 in these 9-week out photos. When asked what he'll weigh onstage, Jeff answers very matter-of-factl: "I'm not worrying about the scale. I just want to be as ripped as possible."
These very wise words from such a young competitor may prove to be the key to bringing home that ever elusive IFBB Pro card come July. Whatever the case, Team MD will be their supporting the newest member of their ever-expanding extended family.
First time I have seen this guy all i have to see he's pretty sick..