DriDDeRz
Mecca V.I.P.
VIP
Joined

Jul 19, 2006
Messages

13,319
Points

38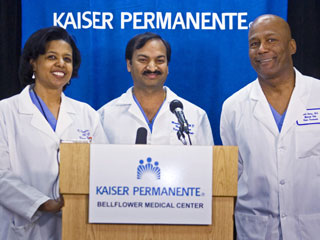 BELLFLOWER, Calif. — Newborn octuplets in Southern California are a feisty bunch that appear healthy even at nine weeks premature, a doctor said Tuesday.
Three babies are being given oxygen but appeared to be doing well, said Dr. Mandhir Gupta, a neonatologist at Kaiser Permanente Bellflower Medical Center.
At least four could be ready for their first oral feeding later Tuesday.
"All the babies were delivered vigorously, crying and kicking," he said.
The mother, who has not been identified, gave birth Monday to the six boys and two girls weighing between 1 pound, 8 ounces, and 3 pounds, 4 ounces (0.67 kilograms and 1.47 kilograms). She was resting comfortably Tuesday and was elated at welcoming eight children to her family, Gupta said.
The eighth baby surprised the parents and doctors, who had prepared to deliver seven children.
"It is quite easy to miss a baby when you're anticipating seven," said Dr. Harold Henry, chief of maternal and fetal medicine and one of 46 doctors, nurses and assistants who delivered the children by Caesarean section.
Click here to read Dr. Manny's blog on the dangers of multiple pregnancies.
Two of the newborns — the second live octuplets born in U.S. history — were initially put on ventilators but were later removed.
The mother checked into the hospital in her 23rd week of pregnancy. Hospital officials would not say whether she had used fertility drugs, which make multiple births more likely.
The babies — dubbed with the letters A-through-H — will probably remain in the hospital for at least two months and the mother could be released in a week.
The world's first live octuplets were born in March 1967 in Mexico City, but all died within 14 hours, according to Encyclopedia Britannica.
The United States' first live octuplets were born in Houston in 1998, three months premature. The tiniest died a week after the birth. The surviving siblings turned 10 in December.