MuscleMecca Crew
VIP
Author
Joined

May 11, 2012
Messages

2,967
Points

48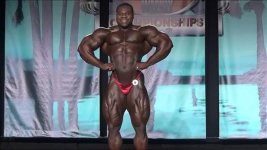 For the September 10th, 1981-born Lionel, it has always been a case of winner takes all. Just like most of his peers, Lionel Beyeke has always wanted to take tops at crucial events. And what else could be the result of this uncommon drive?
Impressive, I should say.
Or how'd you rate Beyeke's performance at the Santa Monica's 2012 Flex Pro where he handed both Ben Pakulski and Fouad Abiad a run for their muscles. He clinched the coveted first prize thus writing the records as one athlete performing unusual feats with uncommon features.
Check it out: Lionel has got bigger shoulders, tiny waist and well-curved muscles, a structure cartoon-like. More controversial was how he placed an impressive 6th at the 2012 Arnold Classic among the industry heavyweights.
Apparently, the personally not-so-good feat continued for Lionel, when he plummeted to a distant 10th at the 2012 Mr Olympia and 11th at the Arnold Classic Europe.
Unless Lionel has an explanation for such a least-expected performance in 2012, fans are not ready to forget such in a hurry.
And of course, he does.
He welcomed his brand new baby, days before the Olympia; and even had to fly in from native France to Les Vegas, venue of the outing. His heart was not in the Olympia. He got a bundle of joy and was understandable emotionally attached.
The earlier part of 2013 however met the IFBB Pro sweating it out and working out very hard to recover his 'lost glory.' The way a bodybuilder looks on the day of the competition, and definitely in comparison to others matters a great deal. Lionel has the potentials, but the Tampa PBW Pro 2013 gave Lionel what proved to him as still below expectations; he came a distant 5th and leaves him to battle with what he's got, leaving fans to find out what aesthetics he can prove on another day.
Perhaps we should talk about his achievement at the Chicago's Wings of Strength Pro-Am Extravaganza in which he clinched the 2nd place coming so close to Roelly Winklaar, the winner in that outing.
Just recently, Lionel proved to his admirers and fans alike that this year's Olympia can only be interesting and splendid enough to watch by claiming a dazzling sterling performance at the Dallas Europa Supershow, going home with the 3rd place prize.
His qualification for the Mr Olympia thus never puts keen observers at a disadvantage on what to expect from this impressive athlete at the mother of all shows.
The 2013 IFFB Pro Wings of Strength in Chicago which held on July 5 and 6 got Lionel Beyeke his second place, after getting a superior body conditioning performance from overall winner Roelly Winklaar.
I believe, if anything, the heavy-weighed muscle mass and conjured muscle bellies of Beyeke can only tune up to help better his conditioning pattern. This he must work on, if he is to perform up to expectations at this year's Mr Olympia and at the Arnold Classic. In the 2013 Mr Olympia qualification series, winning is a must and a pre-condition for performing at the grand slam event of body building. For Beyeke, all he needs to get ticket for the super show is to clinch the winner slot in any of the other upcoming shows in the series – be it the Dallas Europa Pro, PBW Championships or the Nordic Pro. Better still for Beyeke, all would be well, if he could retain his Chicago's feat at most of these events.
Whichever is the case, none puts Beyeke in a roll-in-the-park comfort of the summer, constant gym work-outs and targeted training sessions are some 'midnight candles' he'd have to burn to make this year a fulfilling one for himself after the Chicago Pro Runner up night.
It is perhaps pertinent to put in perspective those who got handed their butts by Beyeke. Keen watchers of the summer series have opined that it might take a while for him to recover from his not too sterling performance in 2012.
I disagreed, so did the results.
Finishing in third, fourth and fifth places at that event after Beyeke were Bill Wilmore, Essa Obaid and Justin Compton. Wilmore got paid for his sudden awakening from his Toronto seventh place performance all with the proper conditioning and got a close beat with Lionel.
Obaid wasn't so lucky to have balanced his front and rear view of his conditioning and had to pay, albeit not heavily for his apparent oversight. More impressive to note about the fifth-place Compton is the fact that the Chicago Pro served as his first professional bodybuilding outing. Compton, therefore has left his fans yearning for more in the coming days following his impressive performance. Once he has decided to go head on with the kings of the game, there needs no going back.
Perhaps other factors which worked pretty well for average-aged Beyeke were his excellent body routines, symbolic poses, and confidence in his impressive body weight at 232 lbs, resulting in the peak on-the-show performance typical of a pro.
The Olympia showdown is only a month away and we can only watch, both in the build-up to the event and also anticipate for the night which promises to be a breath-taking outing.
With the new pro entrants rallying round for better qualification spots and getting qualified in the show, thus bringing them at advantaged positions to lead the pack, or has the pros go the sustaining power to prove that numbers is part of the game?
One thing is certain, the Mr Olympia 2013 will sure go down in the memories of not a few as a spectacular show in the annals of the bodybuilding history.
This article was originally posted in musclemecca bodybuilding forums in 2013.
©
Copyright musclemecca.com 2013
Not to be used without written consent