Joined

Oct 25, 2007
Messages

6,569
Points

48
Welcome to Lionel Beyeke Updates! Here you will find updates on Lionel Beyeke's bodybuilding schedule, pictures, videos and more!
Beyeke Signs with Weider!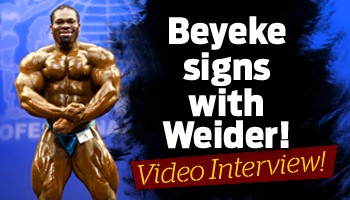 June 3, 2011
FLEXONLINE.COM

On the heels of a breakthrough outing at last
weekend's New York Pro, Lionel Beyeke signed an exclusive contract with Weider Publications.

Beyeke placed fourth in New York in only his second professional contest.
"We are very happy to welcome Lionel to Weider Publications,"

FLEX Editor-in-Chief Allan Donnelly said. "His tremendous potential

was evident to anyone in attendance at the New York Pro.
We believe Lionel has the work ethic and attitude to capitalize
on that potential and continue to rise up the ranks in the
IFBB Professional League.

We believe he has a very bright future in the sport."
Beyeke, 30, is in his second year in the IFBB Pro League.
He placed sixth at the 2010 Phoenix Pro before deciding to work
with trainer/nutritionist Hany Rambod and target the 2011 New York Pro.

The decision paid off, as Beyeke took the stage in New York
at a bodyweight of 252 pounds - 32 pounds of added muscle
since the Phoenix Pro.

Beyeke, who currently lives in France, will look to continue
his rise up the ranks at the Toronto Pro on June 17-18.
He will bypass the 2011 Mr. Olympia and target the 2012 FLEX Pro
as his next contest after Toronto.
Last edited by a moderator: