Joe Pietaro
Joe Pietaro Contributer
VIP
Author
Joined

May 30, 2014
Messages

1,233
Points

63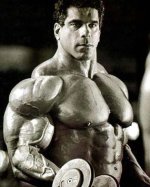 (Let me preface this post by saying I am breaking one of my rules - and pet peeves - by writing this in the first person. Since it is a personal account, I felt that it works best this way. But don't get used to it!)
Upon learning that Lou Ferrigno celebrated his 63rd birthday on November 9, 2014 I allowed myself to think back when both he and I were much younger (I am 16 years his junior) but both Italians from the Bensonhurst section of Brooklyn, New York.
The Ferrignos grew up approximately half a mile from where I did and when "Pumping Iron" was released in 1977, my friends and I immediately gravitated towards the Ferrigno camp. Sure, we also liked Arnold Schwarzenegger, but Big Louie was one of 'us.'
That same year, Ferrigno was cast in the television series, "The Incredible Hulk," playing Bill Bixby's character (David Banner, which was Bruce in the original Marvel Comics) alter-ego in monster form.
Ferrigno's Gym was opened on McDonald Avenue, but that was a decent bus ride from our block. But within walking distance was a small storefront on Bay Parkway that the Ferrignos opened selling gym and exercise equipment.
Of course, the walls were adorned with large framed photographs of Lou on various bodybuilding stages and as the Hulk. His father Matt and brother Andy ran the store and both were very gracious to the groups of youths that sauntered in regularly just to "look around" and ask when Lou was going to stop by so he could sign some autographs.
There has been a lot of negative publicity surrounding Ferrigno and he even sued his brother (their dad passed away in 2003) eight years ago over using the color green (to be recognizable for the Hulk) liberally and his likeness in his Ferrigno Fitness Equipment store in Stewartsville, New Jersey, a much larger facility than the since-closed Bay Parkway location.
And I have witnessed incidents that have been spoken about ad naseum concerning Ferrigno's signing and photo fees at the various bodybuilding expos over the years covering the sport.
But I still can't seem to think bad about the guy I idolized as a kid.
Check out our
Lou Ferrigno Pro Bodybuilding Profile Page
!
Written by Joe Pietaro on 11-17-2014 for MuscleMecca.com - Copyright © 2014 MuscleMecca.com
Last edited by a moderator: