Joined

Apr 10, 2014
Messages

4,207
Points

83
It is an exciting time for Malaysia in the world of bodybuilding!
From
theborneopost.com


Sarawakian woman helms national team to Mr. Asia
August 3, 2017, Thursday Mohamad Abdullah,
reporters@theborneopost.com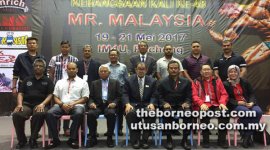 The Malaysian Bodybuilding Federation exco committee members with Jamilah (seated right) and Sarawak Bodybuilding Association president Dato Wee Hong Seng (on her right).
MIRI: Malaysia is targeting at least three gold medals in the 51st Asian Bodybuilding and Physique Sports Championship to be held in Seoul, South Korea from August 20-26.
This is according to the team manager of the national contingent, Jamilah Ibrahim.
Jamilah, the first woman from Sarawak to be elected as Malaysian Bodybuilding Federation (MBBF) vice president, is also expecting one or two bodybuilders from Sarawak to shine in the continent's biggest event.
"I'm pleased with the appointment and the confidence and trust by MBBF for me to lead the bodybuilders from Malaysia to compete in Seoul this August. This shows that women can also shine in any field including sports, " she told The Borneo Post yesterday.
Miri-born Jamilah, who has been Miri Division Bodybuilding Association chairperson since 2013, revealed that there are three Sarawakians among the seven in the team.
The trio of Melvern Abdullah (bantamweight), Buda Anchah (lightweight and masters) and Mohd Syarul Azman Mahen (athletic physique) have all won medals including gold in international competition.
The other four in the national squad are Awang Mohd Azizul Gani (welterweight), Zmarul Al Adam Pulutan Abdullah (lightweight), Ahmad Faiz Ariffin (athletic physique) and Meilulaura Dora Jimmy (women bodybuilding).
Meanwhile, asked to comment on the Miri bodybuilding scene, Jamilah said most top musclemen from Miri have been able to reach the national level contest like Saiful Bahari Morshidi, George Polo, Maskabi Kaba and Azri.
"If there is continuous support from the state government, people's representatives and corporate bodies, as the sport needs much money, I think they can go further to the international level," she added.
Jamilah also wants bodybuilding to become a family sport and be included in schools while hoping the younger generation view it not just as an extreme sport but one which places a high value on discipline.
"What is important is not just flexing the muscles but also building the minds so that they can be active and healthy, " she explained.