DriDDeRz
Mecca V.I.P.
VIP
Joined

Jul 19, 2006
Messages

13,376
Points

38
Link:
http://www.msnbc.msn.com/id/30388174/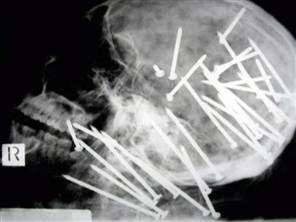 "In 36 years, I've never seen a murder of this nature," Homicide Squad Superintendent Geoff Beresford told reporters. "It's a particularly brutal and vicious murder and hence the reason we are seeking information from the public."

The 34 nails were found during a post-mortem examination of Liu's body, and were located mainly in his skull. They were fired from an 85 mm nail gun at close range, Beresford said. Police have not recovered the weapon.
SYDNEY - Australian police appealed for help Friday in solving the gruesome killing of a Chinese man who was shot 34 times in the head and neck with a nail gun before being dumped in a river.

Chen Liu's badly decomposed body was found in Sydney on Nov. 1, about two weeks after a friend reported him missing, but police have yet to say whether they've identified any suspects.

New South Wales state police on Friday asked the public to provide any information they may have about the case, releasing graphic X-ray images of the 27-year-old's skull to highlight the brutality of the crime.