Joined

Apr 10, 2014
Messages

3,988
Points

48
Mark Dugdale Not Competing In Mr. Olympia 2017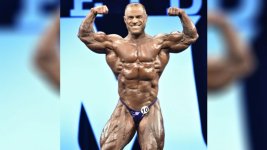 By
F.V. Team
IFBB professional bodybuilder Mark Dugdale has competed in over thirty pro contests including five appearances in the Mr. Olympia.
Recently Mark Dugdale has just made it official that he will not be competing at this year's 212 Mr. Olympia.
Mark Dugdale is already qualified by winning the 2017 Arctic Pro a few weeks ago and he was placed third at the Vancouver BC 212 Pro.
The main reasons that Mark believes why he will be skipping the 2017 Olympia are mainly his age, 42 and the fact that he wants to give more time to his family and his business.
Dugdale competed eight times in the last 13 months and it seems it has taken its toll on the 42-year-old pro bodybuilder.
"Rarely does a day pass in which my body fails to remind me of my age. This past weekend capped off my eighth competition in the past 13 months. At 42 years old,….
I considered labeling this factor "a time to rest," but rest isn't something for which I'm easily inclined. I want to spend a good amount of time in an anabolic, calorie-surplus state to ensure I bring out the absolute best in my physique the next time I step onstage. I hate settling for mediocrity in any area of my life and want to realize tangible progress."
– Mark Dugdale
Last weekend I competed in my 36th IFBB professional contest, placing third in the Vancouver BC 212 Pro. To some degree the result didn't matter, at least in terms of an Olympia qualification, which I already cinched two weeks prior by winning the Arctic Pro. However, the depth of the competition in Vancouver exceeded my previous outing and, at the end of the day, I'm fiercely competitive. I go to war with the iron and suffer through weeks of dieting for the ability to contend for a win.
Going into Vancouver I sought to improve both my fullness and dryness in comparison to the Arctic Pro. I felt like I achieved my goal and, my bride who is my harshest critic agreed. She said my conditioning outmatched everyone in the 212-pound and under division without giving up a significant amount of size. She further saw my proportion and symmetry equal or superior to those to whom I was compared. At the end of the day, the judges felt otherwise, but I have no complaints based on what I brought to the stage. Bodybuilding is a subjective sport and, like I've always said, "If you can't handle subjectivity then take up bowling so you can count the pins."
Bodybuilding News Sources:
http://fitnessvolt.com/12838/mark-dugdale-not-competing-mr-olympia-2017/
https://www.elitefts.com/education/...qualification-5-factors-why-im-not-competing/