Light weight
Well-known member
Member
Joined

Jul 11, 2006
Messages

377
Points

18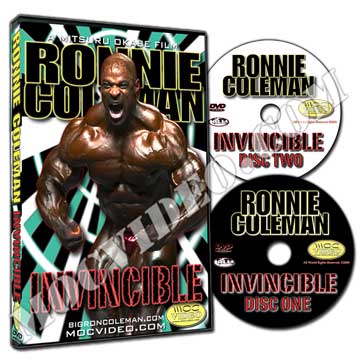 Ronnie Coleman
/ Invincible
Approx. 6 hours / Two disc dvd
Released : April 4th, 2008
Filmed July 9th, 10th, 2007 on his final
off-season week / 12 weeks out of Olympia.
And September 3rd, 4th, 2007 just 3 weeks
out of Olympia. Also includes final body check by
his nutritionalist Chad Nicholls the day of the
Olympia, September 28th at Hotel room.
Ronnie mentioned that his diet has changed
from last year. And his weight training has
changed, too. All training session has been shot
at Big Ron's home gym.
**Ronnie speaks out I & II / How he become
bodybuilder. ( 17min. )/ How he get pro card
(14min. ). Audio only version of Ronnie's car
history and some more things. (26min.)
Fun Extra ( 2min.) Also include Ronnie's delts
workout scene from BFO2007 to complete
wholebody workouts. ( Duplicated footage from
The battle for the Olympia 2007. )
Olympia Contest footage not included.