Ironslave
Mecca V.I.P.
VIP
Joined

Jul 12, 2006
Messages

4,752
Points

38
... and probably less than 5% of them actually know anything about his policies.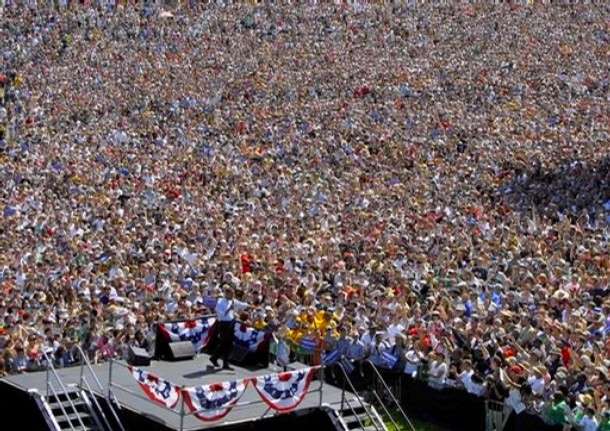 From NBC's Mark Hudspeth
Per the Obama campaign, 75,000 people (60,000 in the gates and 15,000 outside of them) turned out in Portland to hear Obama speak there this afternoon -- making it the largest Obama crowd to date.

Duane Bray, the battalion chief with Portland Fire and Rescue, validated that crowd estimate, the campaign says.

*** UPDATE *** Here's the dispatch from NBC/NJ's Athena Jones... Some 75,000 people flocked to Portland's waterfront Sunday to watch Barack Obama speak, making it the biggest rally the campaign has held to date. Thousands stood on the lawn, dozens watched from boats and from the bridge stretching across the Willamette River. A few kayakers held their paddles and tried to keep their kayaks straight as they watched the candidate, who stood on a makeshift platform.

Obama hailed Clinton as a "formidable candidate," saying she "has been smart and tough and determined and she has worked as hard as she can and she has run an extraordinary campaign."

He added a few lines to an otherwise typical stump speech, attacking presumptive GOP nominee John McCain for his ties to lobbyists, an issue the campaign is pushing and one the candidate spoke about with reporters earlier in the day. "John McCain now has had to get rid of five of his top advisers because it turns out they're all lobbying, many of them for foreign governments. That's because he practices the same kind of politics that we've grown accustomed to in Washington," he said, adding that his campaign did not take money from PACs or federal lobbyists and saying he would have meetings on C-SPAN rather behind closed doors with lobbyists "in their Gucci shoes."

He also criticized President Bush for comments he made in Israel last week comparing those who would engage in direct diplomacy with governments like Iran to those who appeased Hitler. Obama's campaign has interpreted the comments as a hit against him and today he called such tactics "Karl Rove" politics.