Joined

Aug 27, 2007
Messages

571
Points

16
From FLEXONLINE.COM
OBAMA TALKS STEROIDS
Barack Obama talks steroids on ESPN Radio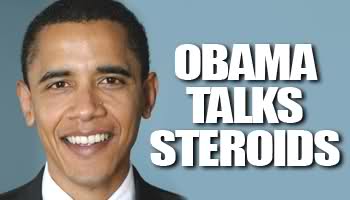 by Shawn Perine
October 2, 2008
No, the Democratic presidential nominee isn't juicing, despite the overwhelming physical demands of running for President. However, the Illinois senator did weigh in on the issue of Congress' involvement with extra regulation for pro sports teams on this morning's ESPN Radio program "Mike & Mike."
When co-host Mike Greenberg asked the Illinois Senator his thoughts on recent congressional hearings set up to address the issue of steroids in sports, Obama asserted that he would prefer it if professional sports leagues handled their own affairs, a position with which we strongly agree. One thing we can all agree on, right or left, is that there's more than enough for Congress to concentrate on these days without having to dabble in additional steroid legislation as well.
A transcription of this portion of the interview, which can be heard here, follows.
Mike Greenberg: "On a serious note, with sports and the government, we've seen the congressional hearings with the performance enhancing drugs and we've seen, you know, a bunch of players there. Then we saw the one with Roger Clemens there as well. We've seen Congress and the government getting involved with the sports and this situation. What's your thought on how much government should be involved with sports and performance enhancing drugs or anything involving sports?" Barack Obama: "You know, I gotta admit that seeing a lot of congressional hearings about steroid use, it is not probably the best use of congressional time...
"But beyond that, seriously, kids are watching sports. They're modeling themselves on athletes, you know when you start reading about kids who are 13 years old, 14 years old, they're starting to take steroids. It's a serious problem - but - it's one you want to see the leagues themselves handle in a more appropriate way. We've got, you know, nuclear weapons and a financial meltdown to worry about. We shouldn't be worry as much about steroids as sometimes we do."

Source link:
:
http://www.flexonline.com/barack_obama_steroids/news/589