Joe Pietaro Contributer
VIP
Author
Joined

May 30, 2014
Messages

1,113
Points

48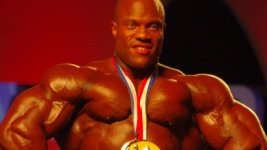 By Joe Pietaro for musclemecca.com
09-18-2014
This weekend, the 50th anniversary of the Mr. Olympia contest will take place in Las Vegas and will be a gala event. The Orleans Arena will be quite different from the Brooklyn Academy of Music back in 1965 and memories of both Joe Weider and Larry Scott (the winner of the first two O's) will make it a nostalgic one, as well.
The line-up card is one dotted with the biggest and best names in the sport of bodybuilding and is top-heavy, to say the least. The pose down will include a sextuplet of men vying for the Sandow and there is more than a slight drop-off after that – depending on a few variables, of course.
Now that you are totally confused, here it is place-by-place to explain:
1- PHIL HEATH
"The Gift" will win his fourth consecutive Olympia and will do so hands-down. Heath is by far the best bodybuilder in the world and will prove it once again on Saturday evening. The only way that he does not is if he comes in totally out of shape, which is not going to happen.
2 – DENNIS WOLF
Last year's third place finisher could have been the runner-up and Wolf also won the Arnold Classic in March. He has the height advantage over his main competition and has been on a great streak. Wolf will easily be the second best man on the stage and take home the second place check.
3 - KAI GREENE
Two straight years as Heath's runner-up, Greene will drop one place this time around and the reason will be the following: in an attempt to put on additional size to his already-massive build, he will come in more bloated looking than in 2012 and 2013 and that distended belly will hurt his score.
4 – SHAWN RHODEN
"Flexatron" has been completely out of the limelight and nary a word has been said about him in the months leading up to the show. But be aware of the overlooked Rhoden, who has an aesthetic and pleasing physique and is always in top condition. He placed fourth a year ago and third in 2012.
5 – DEXTER JACKSON
Still going strong in his early 40s, "The Blade" appears to have been bigger and grainy in some photos posted online a few weeks ago. Another top-six finish here for the wily veteran of the Iron Game.
6 – MAMDOUH "BIG RAMY" ELSSBIAY
The massive one peaked back in May by defending his New York Pro title and doing so in shocking fashion. A few months prior, Big Ramy was hospitalized with an illness and even once he got back on track, was not anywhere near contest shape even weeks before the New York show while guest posing in Pittsburgh. It wasn't until the 11th hour that Ramy even officially entered the Manhattan event and looked even better than he did a year before. When you take his eighth place finish at the 2013 Olympia and the difficult year he has had so far, it would be a coup if he sneaks into the top six.
7 – JUAN MOREL
The native New Yorkers first Olympia will be a good one for him and Morel will barely be edged out by Ramy to show his wares in the pose down.
8 – ROELLY WINKLAAR
Considered an enigma, Winklaar always seems to peak too early and come into a show a bit off. But he has an amazing physique and his size cannot be brushed off easily.
9 – VICTOR MARTINEZ
All of the years in the gym and contest prep seem to finally be catching up to the Dominican Dominator. Was his unexpected time off a detriment or perhaps extended his career a year or two?
10 – BRANCH WARREN
He is in a similar situation as Martinez and Warren has endured injuries to his massive physique.
Written by Joe Pietaro for MuscleMecca.com - Copyright © 2014 MuscleMecca.com
Attached Thumbnails Attached Images