Joined

Aug 27, 2007
Messages

573
Points

16
Bodybuilding legend Robby Robinson wants federal government intervention into the sport of professional bodybuilding to combat the (mis)use of anabolic steroids in the sport.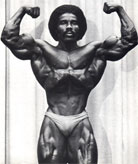 "There's a lot of drugs in the sport," he said. "To be 300 pounds and come down to 260 or 250. I think the government ought to do something." Robinson made his point clear, but also was up front about his own use. "I never took drugs when I came here (to California from Florida) in 1975. The first time I got involved was two weeks before Mr. World. I took the shot – which was primo depot – and remembered going home and sitting down and the whole room started spinning."
Robinson admitted using small quantities of anabolic steroids (identifying Primobolan Depot by name) during the weeks prior to a bodybuilding competitions. After Robinson started using steroids, he went on to win the IFBB Mr. America, Mr. World, and Mr. Universe championships; he won several IFBB Masters Olympia titles between 1994 and 2001.
During his competing days, Robinson would not use steroids during the offseason, but said that when he was eight weeks out, he would take something every two weeks.
Robinson attributes his low serum B-12 levels to his history of steroid use.
"I still practiced that until I retired," he said. "Recently, B-12 was low in my body, and I know that was from steroid use."
Robinson alleges that the IFBB (or powers that be) are deliberately constraining the growth of the sport of bodybuilding. He believes they want to keep bodybuilding a "cult sport" to escape the public steroid witch hunt that has plagued other sports.
Regarding the popularity of the sport, Robinson feels that the powers that be are deliberately holding it back. "They're trying to keep it down because of the drugs," he said. "We're not in a big light. It's more of a sub-culture, a cult sport. It's (stopping steroids) going to take away from it. The government will get involved – like (Roger) Clemens and (Barry) Bonds."
Clearly, bodybuilding is finding it challenging to keep the prevalence of steroids in bodybuilding a secret when the Governor of California has his name intimately associated with one of the largest bodybuilding competitions - the IFBB Arnold (Schwarzenegger) Classic.
Jim Lorimer, the promoter of the Arnold Classic, acknowledged the need to "protect the sport [of bodybuilding" in light of the negative publicity surrounding the use of steroids in other sports. As a result, the IFBB has initiated at least one random steroid test this year to crackdown on steroid use in bodybuilding.
Source: MesoRx
Author: Millard Baker
taken from:/insidebodybuilding.blogspot.com