MuscleMecca Crew
MuscleMecca Crew
VIP
Author
Joined

May 11, 2012
Messages

3,092
Points

63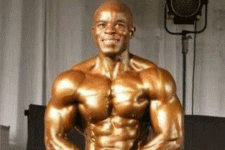 INTERNATIONAL Federation of Bodybuilding and Fitness South Africa (IFBB SA) professional Earl Abrahams will next month grace the inaugural Marume Classic set for the Zimbabwe College of Music in Harare.
By Munyaradzi Madzokere
Popularly known as "The Beast", Abrahams is not coming to compete but will be the special guest at the event that is being organised by four-time Mr Zimbabwe bodybuilding winner Givemore Marume.
Marume spent 20 years in competitive bodybuilding through which he won four Zimbabwe titles, Mr Ironman six times, Mr Pro Fitness, Light-heavy Weight Shamim Classic Cape Town as well as the World Championship.
"I managed to convince Abrahams to come and grace the show. He turned professional last year at Arnold Classic and I am honoured to have him at the event," he said.
"He is just coming as a special guest, but I will check with the chief judge if he wants him on the judges' panel."
Marume said the idea behind the new tournament which is registered by the National Federation of Zimbabwe Body Building and Fitness (NFZBBF) was to develop the sport in the country.
"In my 20 years in competitive bodybuilding, I have gone through a lot of good and bad experiences. I felt it was important to inspire upcoming athletes with a classic show which is the first one in Zimbabwe," said the 43-year-old.
"I would like to see this show grow to the extent where it will attract regional athletes in future."
Competition will come in seven categories, — Girls and Boys' Teen Fitness, Junior Men Under-23 Bodybuilding, Women Bikini, Men's Physique, Men's Fitness and Senior Men Bodybuilding.
Reigning Mr Zimbabwe who also finished third at the Arnold Classic in South Africa this year is the guest poser for the pageantry.
"I am expecting a big turnout of athletes, especially big names like Ndumiso Ndlodlo, Lovemore Munyamana, Blessing Nyapimpi, Pardon Dube, Loreen Moyo, Shamma, Ashleigh Dube and many more. At least 60 athletes are coming to take part," Marume said.
He said he had found sponsors and partners in Saltrama Plastics, Arc 360, Pro Fitness Health Clubs, KM auctions, Impakt Academy, Zimoco and from NFZBBF. He said the door was still open to those interested in supporting him.
The legendary bodybuilder whose journey began in Gweru in 1990 had an illustrious career until he retired half a decade ago.
He still remains in the NFZBBF setup.
"I am working in the national association as the organising secretary. I am also a member of NFZBBF technical committee. I am putting all my energies to help improve our sport through good provincial structures and expose athletes to international competitions," he said.
News Source:
https://www.thestandard.co.zw/2017/07/09/sa-bodybuilding-champion-grace-marume-classic/