Joined

Apr 10, 2014
Messages

3,990
Points

48
This was huge steroid bust in South Africa!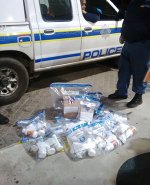 R2.4m illegal steroid bust in De Doorns
2017-06-27
By Caryn Dolley, News24
Cape Town - An intelligence-driven operation has resulted in police arresting two suspects and seizing a truck after discovering anabolic steroids in it late on Monday in De Doorns.
Public order police officers and members of the flying squad discovered the illegal steroids during an operation at a petrol station.
"During this operation, a Scania truck and trailer was searched which led to the discovery of illegal schedule 7 anabolic steroids with an estimated street value of R2.4m," police spokesperson Lieutenant Colonel Andrè Traut said.
"The truck valued at approximately R 1 million was also seized."
Two suspects, aged 47 and 57 years, were arrested and are to appear in the Worcester Magistrate's Court once charged.
Police were investigating the circumstances around the seizure.
Major drug bust
The steroid discovery is the second major illicit goods discovery in the Western Cape in less than two weeks.
On June 21, 253 boxes containing what was initially believed to be cocaine were discovered on a farm in Villiersdorp.
However, the drugs discovered may actually be heroin worth less than R500m.
The drugs were allegedly transported to the farm via a truck.
It is understood this transport company is now under scrutiny.
The steroid bust happened five days after the major heroin discovery.
Illegal steroid trade
The illegal steroid trade was in the spotlight in the Western Cape in 2013 and 2014 when Brian Wainstein, known as the "steroid king" and who also went by the name aliases Brian Benjamin, was arrested in Cape Town.
An August 2014 court document on the matter said the US government wanted him extradited on various criminal charges relating to "the illegal importation and marketing of various drugs, including anabolic steroids, in the United States".
It was not immediately clear what had become of this matter.
News24 spotted Wainstein at a popular Cape Town eatery late in 2016.
News Source:
http://www.news24.com/SouthAfrica/News/r24m-illegal-steroid-bust-in-de-doorns-20170627