Joined

Apr 10, 2014
Messages

4,085
Points

63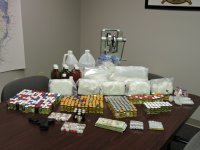 MAJOR BUST — A large quantity of suspected steroids, cash, three weapons and a pill press were seized Wednesday afternoon by the Jefferson County Drug Task Force from a home in Yorkville. Detective Jason Hanlin of the task force said no charges have been filed while the material is tested by the Ohio Bureau of Criminal Investigation. -- Dave Gossett
YORKVILLE — Members of the Jefferson County Drug Task Force, with the assistance of the Yorkville Police Department, seized 400, 10-milliliter vials of suspected injectible anabolic steroids and 3.5 kilos of a suspected powder form of steroids Wednesday afternoon at a structure at 145 Sinclair St.
Detective Jason Hanlin of the drug task force said the investigation was started by an out-of-the-area task force and transferred to the local drug task force.
"One person is under investigation at this time. Our preliminary investigation indicated the suspected steroids were not sold locally. We believe the drugs were being sold on the Internet," explained Hanlin.
"We are not releasing the name of the individual under investigation because he has not been charged. The material will be shipped to the Ohio Bureau of Criminal Investigation laboratory for testing and analysis. But the lab has already told us it will take months to test all of the seized material," Hanlin said.
Also seized during the Wednesday afternoon raid were bottles of seed oil that could be mixed with the steroid powder for injection into a person's body.
"We also found a plastic tub that contained small bottles of hundreds of pills we suspect are steroids, as well as a pill press that was used to make the pills. Approximately $1,200 in cash was found in the home along with two handguns and a rifle," continued Hanlin.
He noted the raid proceeded without incident.
"The investigation will continue. This was not a heroin drug bust but this appears to be a sizeable operation. Steroids can be a dangerous drug," stated Hanlin.
News Source:
http://www.heraldstaronline.com/news/local-news/2017/06/steroid-bust-in-yorkville/