Joined

Apr 10, 2014
Messages

4,143
Points

83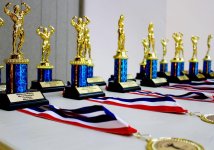 We are happy to announce The Third Annual CNMI Bodybuilding & Physique Championships!
July 22, 2017 5pm
Multi-Purpose Center, Susupe, Saipan
The Third Annual CNMI Bodybuilding & Physique Championships are approaching! Make sure you make it out to see the greatest Bodybuilding and Physique Athletes on island compete for the Championship!
CNMI Championship Competitor's Profile: Physique Athlete Enrico Valdez
By Vicente "Ben" Salas II -
ben@mvariety.com
- Variety News Staff
THIS coming Saturday, the Northern Marianas Bodybuilding and Physique Federation/Commonwealth Bodybuilding Federation hosts its 3rd Annual CNMI Bodybuilding and Physique Championship at the Multi-purpose Center. The show begins at 5 p.m.
Variety will be running competitor profiles on some of the athletes competing in the event, covering their notable accomplishments, their reasons for competing and what keeps them driven in their sport.
Enrico Valdez
Today's featured competitor physique athlete Enrico Valdez. Some readers will remember him from his exclusive interview Chasing his 'final form.'
Age: 24
Current occupation: Administrative at Joeten Superstore
Reason/motivation for competing:
It began as a way to cope with heartache from an unhealthy relationship and bad breakup by doing something positive, empowering, and healthy. But it became so much more when Valdez realized that competing and training was something he wanted to make a career of.
He developed a deep passion for the sport and realized that his sole purpose in life is to motivate and inspire people through health and fitness.
Other hobbies:
In addition to training and competing, Valdez enjoys "VLogging" and producing new video material for his YouTube fitness channel EV FITNESS.
Career goals:
Valdez desires to become successful in the fitness industry by becoming a Certified Personal Trainer and entrepreneur one day.
He considers his number one fitness and career goal to be in line with his life's purpose—to motivate and inspire people by giving back to the community and helping others reach their fitness goals.
Advice to aspiring competitors:
"Believe in yourself. Be confident when you present yourself on stage. You're showing the judges, the audience, and the whole world all of the hard work, dedication, and sacrifice you made and you should be proud of it. Just remember that diamonds are made under pressure and all that pressure you endured during on-season prep created that diamond you have now become."
Previous competitions:
Dee Clayton Classic 2015 and 2016; Marianas Muscle 2015, 2016, and 2017; Stingrey Classic 2016; Guam Nationals 2016; World Bodybuilding and Physique Championships 2016; Ikaika Classic 2017.
Upcoming competitions:
CNMI Championships (July 22); Dee Clayton Classic (October 21); South Pacific Championships (Oct 26);Shawn Ray Hawaiian Classic (November 4); Paradise Cup (November 11); Guam Nationals (November 17)
Source:
http://www.mvariety.com/cnmi/cnmi-n...itor-s-profile-physique-athlete-enrico-valdez