Joined

Jul 12, 2006
Messages

6,430
Points

38
The campaign sold 10,320 tickets to the rally and gave away another 1,000.
http://www.cnn.com/2008/POLITICS/09/02/paul.convention/index.html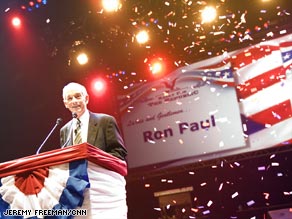 MINNEAPOLIS, Minnesota (CNN) -- While Republicans pow-wowed in St. Paul, supporters of Ron Paul threw their own party in neighboring Minneapolis.

Texas. Rep. Ron Paul kicked off his political action group Campaign for Liberty at Tuesday's rally.

"Freedom brings people together," Paul said before a sold-out crowd at Tuesday's Rally for the Republic.

Paul, who said he entered the presidential race reluctantly, told the roaring audience, "I lost my skepticism. I hope you lost your apathy."

As the congressman stepped on stage, red, white and blue confetti fell from the ceiling during a two-minute standing ovation.

Paul said he entered the presidential race not because of what he wanted to do but because of what he did not want to do.

"I did not want to run people's lives, I did not want to run the economy and I did not want to run the world. I didn't have the authority to do it, and I didn't have the Constitution behind me to do it," said Paul, who has served in the House of Representatives for more than 30 years.

He withdrew from the presidential race this summer to focus his time on building an organization to help recruit and elect "limited government Republicans."

Paul blasted the government for what he considered overstepping its boundaries in many areas, including foreign policy, education and taxation.

The crowd applauded feverishly when Paul said the country should do away with the Federal Reserve System.


The campaign sold 10,320 tickets to the rally, priced at $17.76, and it gave away about another 1,000 at the door. The event took place at the Target center in Minneapolis, the same arena that will host Rage Against the Machine on Wednesday.

The rally marked the official start of Paul's political action group, the Campaign for Liberty.

Paul, who ran for president as a Libertarian in 1988, never gained much ground during the Republican primary season.

He did better in the caucuses than primaries and managed to come in second in the Nevada and Montana caucuses, which took place before the field was narrowed to just him and John McCain.

He did, however, develop a huge following online. His presidential run was centered around a grass-roots effort that conducted Internet drives for funds. Watch what Paul thinks about this year's candidates »

Paul is a strict constitutionalist who believes in traditional Republican principles like small government, low taxes and a free-market approach to the economy. But he was the only Republican candidate who voted against the war in Iraq.

The hours leading up to his appearance were filled with a lineup of speakers who blasted the current administration and musicians who rallied the crowd.

An energetic group joined in as musician Aimee Allen pumped her fists while singing, "Ron Paul. Start a revolution and break down illegal institutions!"

Former Minnesota Gov. and professional wrestler Jesse Ventura received wild applause as he ranted against both Democrats and Republicans and hinted at his own White House run.

"I am not a Democrat, and I am not a Republican, and I say that very proudly today, because I think these to parties are destroying our country," he said.

Ventura pushed personal responsibility, saying it's up to Americans to hold leaders and the media to higher standards.

"I wrote the book, 'Don't Start the Revolution Without Me.' Well, I'm here!" he said over the applause. "Believe me, with people like myself, Dr. Paul and all the rest of us, let's get the revolution going!"

The rally included appearances from NBC's Tucker Carlson, anti-tax advocate Grover Norquist and former New Mexico Gov. Gary Johnson.

Rally-goer Carrie Duffield said she attended because she is "dedicated to bringing the GOP back to its traditional, conservative roots of low taxes, low spending, national sovereignty, sound money and a non-interventionalist foreign policy."

"I wish the rest of the Republicans would come on home," said Duffield, who is from Swadley, Pennsylvania.

Randy Jennings, from Vernon Center, Minnesota, said he hopes Paul causes both parties to take a better look at themselves.

Paul supporters not able to attend the rally in person were encouraged to watch online as a part of "Take Over the Net Tuesday," and hundreds posted their commentary on the speakers in forums throughout the day.

Other supporters camped out at a dairy farm in Goodhue, Minnesota, for what was being billed as "Ronstock08."

Earlier Tuesday, Paul said he was told he could go to the Republican convention floor, but only under very restricted conditions.

The Republican National Committee told Paul he would have to pick up his pass at the gate and couldn't have any guests.

"Republican congressmen should have a pass to the floor, but they said, 'Your pass will be at the gate, and we'll pick it up when you leave, and you can't take anybody with you,' " he said on CNN's "American Morning."


Paul said he wanted his rally to be a positive event that focused on the issues he thinks other Republicans ignore: "the spending problems, the deficit, our foreign policy, our national defense, our monetary policy."

"We're Republicans. We believe in limited government and personal liberties. We ought to be talking about these things," he said.