Joined

Apr 10, 2014
Messages

4,217
Points

83
Kratom: The Solution to Opioid Addiction? Why Does the FDA Want it Banned?
Although it's legal in the United States, the FDA is concerned of its potential for abuse
June 27, 2017
Nick Broadway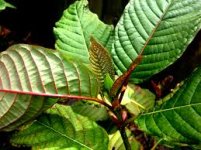 FARGO, ND — A substance that the FDA tried to ban last year is being used in the F-M area.
But one woman says it can be the key to recovering from deadly opioid addictions.
A Fargo woman claims Kratom can help opioid addicts.
Although it's legal in the United States, the FDA is concerned of its potential for abuse.
Opioid addiction is a growing problem in the Red River Valley, continuing to take the lives of our neighbors and loved ones.
It's why a south Fargo woman dedicated years of research to Kratom, which is a coffee family plant native to Indonesia.
She claims seven are recovering successfully using the plant alone.
She's decided to remain anonymous for this story.
"The perk is that you cannot overdose on this," she told KVRR's Nick Broadway. "You will wake up tomorrow. It's less dangerous, in my opinion, then methadone and seboxyn."
The plant is ground into powder and can either be brewed or ingested in pill form.
"It's a tea leaf," she explained. "It's been used in folk medicine overseas forever. Hundreds of years."
She said the lighter doses can help with anxiety, depression and weight loss.
The heavier stuff is used for addicts.
"If you take it correctly, and you use it in moderation, and you're a responsible adult, I don't believe that it's dangerous," she said.
She tried selling it on Facebook, but the post was taken down.
The FDA tried banning Kratom as a schedule 1 drug in 2016, saying it has potential for abuse.
"Kratom is a lot weaker than most prescription opioids or heroin, but it's still an opioid," said Dr. Robert Sherrick, who is with Community Medical Services.
Dr. Sherrick treats addicts in western Montana.
He does not use Kratom in his treatments and thinks it should be treated like any other opioid.
"It works at the opioid receptors pretty much the same as any other opiate," he explained. "I've never heard of anybody overdosing on Kratom by itself, but on the other hand, I think Kratom does have the potential for being addicting."
Dr. Sherrick thinks Kratom needs to be regulated to keep its users safe.
"I would like to see at least enough FDA involvement so that when you buy something that says it's Kratom, you know that's what is in there," he said.
The Fargo seller buys her Kratom in bulk from a grower in Indonesia.
She claimed the cost of Kratom is less than methadone treatment.
There are several online communities aimed at finding Kratom's uses as a medicine.
But Dr Sherrick said more official medical research is needed.
"There's almost no research done," he said. "Even on the internet, you will see people who have had success and gotten off of opioids using Kratom and I have to say, if that works, I think that's good. On the other hand, I don't think that's most people's experience. I could be biased, because I see the failures, not the successes. Obviously, somebody successful in getting off opiates is not going to come see me."
The seller found out about Kratom after she lost a close friend to opioid addiction.
"Had a bad day and went and shot up a bag by himself in a McDonald's parking lot and died," she said. "That is the saddest most desperate thing I've ever seen."
"If it helps them taper down or quit, I don't see that there's much harm in that. But I think if you read on the internet that it's some sort of "wonder drug" that's going to cure addiction, I think that's overblown," said Dr. Sherrick. "I think it's not the miracle drug."
The Fargo seller disagreed. "I don't know how else to say it other than it is a miracle medicine and it's doing really incredible things. That's for sure. That's for sure," she added.
Kratom was introduced to the U.S. in the 1980's, but its popularity is growing.
In August of 2016, the DEA temporarily classified it as a schedule 1 drug.
Soon after, the FDA seized more than 100 cases of
Kratom
which they said in a statement was "illegally marked as treatment drugs."
In October, this temporary ban was lifted.
As of now, the DEA has made no final decision on Kratom.
Source:
http://www.kvrr.com/2017/06/27/kratom-solution-opioid-addiction-fda-want-banned/
Last edited by a moderator: