Joined

Apr 10, 2014
Messages

4,084
Points

63
Pretty amazing for a woman to accomplish this for India!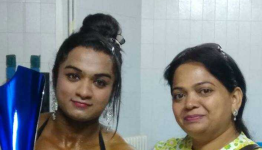 Doon girl Bhumika Sharma wins Miss World title in bodybuilding championship
Bodybuilding is largely seen as a men's sport. But Bhumika Sharma of Dehradun broke that glass ceiling last week by winning the Miss World title in Venice.
Another Indian has become Miss World. And this one has muscles to show off as well.
Dehradun's Bhumika Sharma gained maximum points in three categories – individual posing, body posing and fall in that eventually bagged her the Miss World title and the gold medal at the world championship in Venice last week.
"The Indian squad had 27 members. I was the lone woman bodybuilder. I gained enough points in all the three rounds and made the country proud," Bhumika told HT's sister publication Hindi Hindustan.
The championship drew 50 competitors from different countries.
But bodybuilding wasn't her original choice. Her parents - Hansa Manral Sharma the head coach of the India women's weightlifting team and Vishwavijay Sharma, a businessman - wanted her to become a shooter but fate had something else in store for her.
During a shooting event in New Delhi three years ago, a chance meeting with a bodybuilding coach changed the life of the 21-year-old.
She left shooting, opted for bodybuilding and began to win medals regularly.
As an only child it was not easy for Bhumika to convince parents to let her go for bodybuilding. After initial reluctance, her parents finally gave her the nod to continue her passion. Her mother keeps a tab on her schedule and shares tips from time to time. And her coach, Bhupendra Sharma ensures she remains impressive.
She follows a punishing schedule at the gym for up to seven hours a day. Bhumika has now set her sights on the Miss Universe title for bodybuilding. Bhumika is the only woman bodybuilder from Uttarakhand who has made mark in the national /international arena.
"I am preparing hard for Miss Universe Championship to be held in December this year" she told the newspaper.
Organized by National Amateur Body-Builders' Association (NABBA) of United Kingdom, bodybuilders from 60 countries will participate for the Miss and Mr Universe titles.
News Source:
http://www.hindustantimes.com/india...hampionship/story-gOIiRw4i7r3ZBT0SQio3mJ.html