Kayce
Well-known member
VIP
Author
Member
Joined

May 22, 2015
Messages

150
Points

28
This was originally posted ion 2013 here on musclemecca bodybuilding.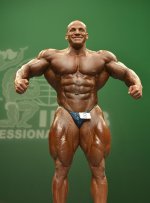 Big Ramy, The 2013 Bodybuilding year and what lies ahead
It's running close to the later end of the year already and what better time than now, to chronicle the activities that went down in the past 6 months. It has been an exciting mixture for the lovers of the bodybuilding game and one occurrence which may be repeating itself in a more block-buster fashion 15 years down the line. What is spectacular about 2013, and in common with the earlier part of 1998?
I'll tell you.
Ramming all the way through, against all odds was
Mamdouh Ellsbiay "Big Ramy."
He was a wide play for anyone to bank on, and considering he was making his debut performance as a bodybuilding pro, Ellsbiay never got too many cameras pointing his way. Understandably, you would say.
For the sake of analysis, it was therefore a case of comparing his huge muscle mass and building up enough media hype for him to stand head-to-head with the industry's heavy weights and budding contestants.
It was however a night of lasting first impressions when Big Ramy got all the eyes looking his way, and thus making him compete up to the hype. All he needed to prove he was a rare breed was to smash those expectations and ensured the likes of Victor Martinez, John Morel, Jonathan De La Rosa and Cedric McMillan never got a chance at the coveted overall seat of the night – the New York Pro which held in New York.
Perhaps never to mix issues up, Big Ramy handed
Victor Martinez
not quite of a shocker as the latter has been off the stage for a few months less than two years and handling Ellsbiay the first place win with convincing perfect scores, thus qualifying Big Ramy for this September's Mr Olympia.
Apparently, the third biggest event of the year got "Big Nasty"
Ronnie Coleman
what he worked for, thus earning the overall winning prize at the event, but it was not much of a certainty that the likes of
Flex Wheeler
will have to be displaced to win the Mr Olympia that year. For many an observer, the Night of Champions win was enough, but they later got evidently proved wrong.
If we are to go by the books, Big Ramy's outing at the Mr Olympia may not be record smashing and probably not ripe enough to win the contest, but it was the same way Ronnie Coleman wasn't tipped for the prize decades back. The
2013 Mr Olympia
promises to be super, and what's left is if the Big Ramy will indeed repeat the same feet this year.
Last edited by a moderator: