Kayce
Well-known member
VIP
Author
Member
Joined

May 22, 2015
Messages

137
Points

28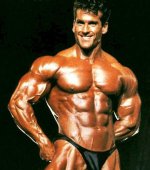 Bob Paris, former Mr. Universe was born on December 14, 1959 in Columbus, Indiana. As an avid personality he has successfully fulfilled his roles as bodybuilder, writer, actor, speaker and civil rights activist.
Career: Bodybuilding
Paris started bodybuilding while he was studying at Indiana State University. That is when he participated in his first bodybuilding competition, The Mr. ISU, however, he could not reach top place in the event. At the age of 19 years he bagged second place in the Mr. Teen Florida contest. Soon after, he had to make his own living out of his father's house. He joined with a friend of his to move to California. Thereon, Bob lived in Santa Monica, the bodybuilding hub. He started working in Orange County for his living and soon started training for professional bodybuilding.
His two years in Los Angeles was a great period when he won the Mr. Los Angeles title, California Muscle Classic and Mr. Southern California title. Bob participated in light-heavyweight class in these events.
In 1983 he won NPC National Championships under heavyweight class and overall. And in World Championships, he stood first in heavyweight class and overall. He retired from official bodybuilding competitions in the year 1985 but returned back in 2 years. Finally he announced his retirement in the year 1991.
Bob showcased his bodybuilding abilities in the IFBB Mr. Olympia contest too. He stood 7th in 1984 Mr. Olympia contest held in New York City. In the year 1985 he came back from his retirement and participated in IFBB Mr. Olympia contest in Belgium and stood 9th position. He continued to participate in Mr. Olympia contests in year 1988, 1989, and 1991 and stood at 10th, 14th and 12th positions respectively.
He participated in other bodybuilding events hosted by IFBB and held leading positions in the competitions. In 1988, he bagged 3rd place in IFBB Niagara Falls Grand Prix, IFBB night of Champions and IFBB Italian Grand Prix, and 4th place in IFBB Spanish Grand Prix. In 1989, he won third position in IFBB World Professional Championship that was held in Surfers Paradise, Australia. In the same year, he participated in Arnold Schwarzenegger Classic in Ohio and succeeded to reach the fifth position. In the IFBB Montreal Grand Prix contest he stood 3rd in Montreal, Quebec.
Bob Paris was a great speaker. He fought for the rights of athletes and boldly spoke to bring about legitimacy of drug testing in the sport.
Personal life:
The birth name of Bob is Robert Clark Paris. He was second child among the five siblings. The childhood of Bob does not provide evidence of happiness as his parents divorced twice in his teenage. Thereon, he lived with his father until he was thrown out of house at the age of 19 years.
Bob was born with great talents. He was an all rounder since childhood. As a theatrical artist and strong athlete he excelled in several competitions held in school. When he stepped into high school he performed in the shows- the musicals, How to Succeed in Business without Really Trying and Pajama Game. He was an avid speaker and made his way as a member of International Thespian Society.
His creativity and skills in drawing and painting won him National Scholastic Awards as a young man. He showed the writing capabilities by writing short stories whenever he found leisure. He was also involved actively in debate team and theater group. As an athlete he enjoyed a hike (also backpacking) in the woods of Indiana Hoosier National Forest. Besides, Bob was a dedicated bicyclist and an adventure biker.
Bob was a great outdoor player and was considered as a mascot in the high school football team. He showed interest in other outdoor games like golf and track events. He slowly drifted from the team games to concentrate on weight training and strength building. Pretty soon he was successful in gaining weight and strength that shoved him even more into the bodybuilding arena.
After successfully completing his schooling he spent the summer in U. S Marine Corps boot camp held at Paris Island, South Columbia. He then continued his higher studies in Indiana State University and Indiana University, Bloomington.
Paris was the man who declared being gay when he was in the peak of his career. He enjoyed the courtship of Rod Jackson and fulfilled the commitment with a ceremony in the year 1989 in a Unitarian Church. Together they made several appearances in newspapers and magazine and appeared in programs in television and radio. They also lectured on LGBT rights and fought for the same. However, in 1995, they departed.
Bob got married to his now wife Brian LeFurgey in 2003 after living together since 1996. He is now residing in Island of Vancouver, British Columbia, Canada.
Other interests:
Bob Paris was highly interested in acting and theater. He enrolled at Stella Adler Conservatory for advanced theater program. He also underwent coaching under Vincent Chase and Arthur Mendoza for added exposure. Bob has been involved in theater productions that have been highly acclaimed. He became famous with his debut in New York stage that was directed by Herbet Ross and Cole Porter Moss Hart. He was seen in television series, Defying Gravity that was aired in Fox Television.
Bob Paris Books:
Paris also excelled as a writer. The fitness books he wrote has been widely read and highly appreciated.
Flawless: The 10-week total image method for transforming your physique published in 1993.
Beyond built: Bob Paris' Guide to Achieving the Ultimate Look published in 1991
Natural fitness in 1996
Prime: The complete guide to being fit, looking good, feeling great- published in 2002
"Gorilla Suit: My Adventures in Bodybuilding" published 1998 was a personal memoir. Bob also wrote on gay sensitivities in his book- generation Queer: A Gay Man's Quest for Hope, Love, and Justice that was published in 1999. Presently he is working on Book- The Preservationist, and a TV drama.
Few books about Bob Paris include photography books- Duo by Herb Ritts and Bob & Rod by Tom Bianchi.
Bob Paris has lived his life as per his desires. He justified all his roles in the field of bodybuilding, books, sports, and acting. Given a chance, he would try to put in a lot in his life even more. The artist and athlete in Bob have been highly appreciated. Enjoying his retirement life after decades of bodybuilding and acting, he is continuing to write and act even now.
© Copyright 2013 musclemecca.com
Not to be used without permission