MuscleMecca Crew
VIP
Author
Joined

May 11, 2012
Messages

2,939
Points

48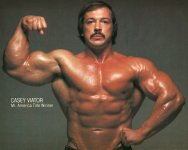 Casey Viator
Birth Date - September 4, 1951
Death - September 4, 2013
Birth Place - New Iberia, Louisiana
Casey trained with well known bodybuilders like Arnold Schwarzenegger and Frank Zane and Arthur Jones
Bodybuilding Competitions Casey Won
1970 AAU Teen Mr. America
1970 AAU Teen Mr. America (Most Muscular)
1970 AAU Mr. USA
1971 AAU Mr. USA
1971 AAU Jr. Mr. America
1971 AAU Mr. America
1980 IFFB Louisiana Grand Prix
1980 IFFB Pennsylvania Gran Prix
1980 Pittsburgh Pro Invitational
His last bodybuilding competition was in 1982 at the Mr. Olympia where he placed third!
# Casey Viator was the youngest bodybuilder to win the AAU Mr. America in 1971! He was only 19!
Casey Viator on his greatest achievement:
I think the 1971 Mr. America win at 19 years of age was probably the best thing.
Also winning my 2 IFBB Pro grand prix's in 1980 and beating many top names was also a great thrill.
Lee Labrada
IFBB Mr. Universe
Casey Viator was an inspiration to me. I've always been in awe of what Casey was able to accomplish through a combination of hard work and God-given genetics, becoming the youngest Mr. America ever at the age of 19. That is a record that may never be broken.
[#]Casey Viator[/#]