tkD
Administrator
Staff
VIP
Member
Joined

Mar 7, 2008
Messages

21,403
Points

113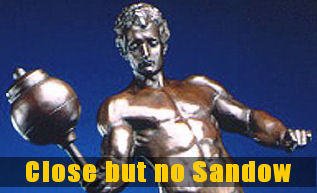 The 14 men who finished second in the Mr. Olympia, but never won it.
Nobody remembers who finishes second, so the cliché goes. Don't believe it. Whoever is runner-up in bodybuilding's ultimate contest, Mr. Olympia, isn't just second best; he's also the presumptive successor to the sport's standard-bearer and ambassador. That said, 14 men have been there in the contest's 42-year history, and never managed that last step, while only five have ascended from two to one.

If history is our guide, it's nearly three times as likely that a second-place "O" finisher won't eventually win the title than that he will. The inevitability of most heirs-apparent was in error, apparently, and, yet, second best in the world is in itself a spectacular achievement. Let's celebrate the 14 bodybuilders who either placed second or, when there were two classes from 1974-1979, won their class but not the overall. These are the greats who never reached the summit, but, at least once, climbed higher than any other bodybuilder on the planet - except the one who climbed just a little higher.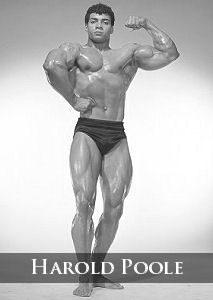 HAROLD POOLE
(1965, 1966, 1967)
Many believe Harold Poole deserved to be crowned Mr. Olympia in 1966. Yet, despite three 2nds, he still ranks as one of the all-time greats.
The crucial things to know about Poole's runner-up finishes to Larry Scott in the initial two Olympias are that Poole was only 21 for the first and 22 for the second, and, in the latter, Poole lost only because a tie-breaking vote went to Scott, the reigning (and retiring) champ. Poole, who won the 1963 IFBB Mr. Universe (defeating Scott) at 19, was just 23 in his final "O" in '67. (At that contest, only the winner, Sergio Oliva, was acknowledged, leaving fans and historians to debate whether Poole or Chuck Sipes deserved the runner-up credit.) In fact, Poole is not only younger than Scott, but he was also born after Sergio Oliva, Franco Columbu, Frank Zane and Chris Dickerson, and the latter won the Olympia 15 years after Poole last entered it!
Of Poole's three tries at the Olympia title, he contends that Scott was the rightful winner in '65, as was Oliva in '67. But Poole believes he should have been number one in '66, as did many observers. After a seven-year hiatus from the stage, he competed (under the name Damian Poole) in seven IFBB pro contests between 1979 and 1982.
Today, at age 64, he works in Florida as a personal trainer and tae kwon do instructor, and he plans to compete again in the masters division of the Atlantic City Pro on September 12-13. Known for his overall thickness, his trapezius and chest density helped popularize the most-muscular pose, and he remains the youngest man to ever place in the top two of the Olympia.
CHUCK SIPES
(1967)

Every bit as strong as he looked (and more), Chuck Sipes had to settle for a disputed second to the incomparable Sergio Oliva in 1967.
One of the strongest bodybuilders ever, Sipes, the 1959 IFBB Mr. America and 1960 IFBB Mr. Universe, claimed to bench press 570. In fact, on the same stage on the same day he competed in the '67 Olympia, he gave a strongman exhibition in which he busted chains and bent spikes and bars.
Sipes is often cited as having been the runner-up in that Olympia, behind Oliva and ahead of Poole, although placings beyond first were not acknowledged. He subsequently won the 1968 Mr. World and posed competitively until '74. An avid outdoorsman, Sipes worked for 20 years for the California Youth Authority, chaperoning juvenile delinquents into the mountains and teaching them about trust and self-sufficiency. Tragically, Sipes took his own life in 1993 at age 60.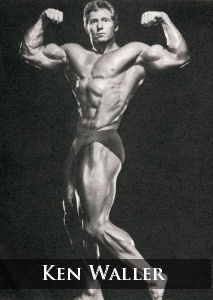 KEN WALLER
(1976)
In a sense, Ken Waller was Mr. Olympia, at least for men over 200 pounds. However, Franco Columbu was the overall Mr. Olympia of 1976.
He's best known for his shirt-hiding role in "Pumping Iron", but between 1969 and 1976, this former college football player had a remarkable run of competitive success, first in other organizations and then in the IFBB, where he was, in order: Mr. America, Mr. International, Mr. World and Mr. Universe, a progression that culminated in his heavyweight class win at the 1976 Olympia before losing the overall to lightweight victor Franco Columbu.
Waller retired from competition after entering the 1981 Mr. Olympia. Having managed the original Gold's Gym, he owned his own gym during the 80's and subsequently worked for X-Treme Activewear (the manufacturer of Gold's Gym clothing). He's now 65.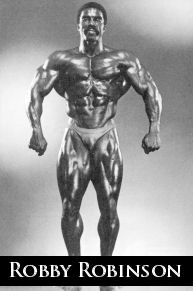 ROBBY ROBINSON
(1977, 1978)
Even at 61, Robby Robinson displays the kind of muscularity that brought him within a hairsbreadth of bodybuilding's most coveted title.
With the (temporary) retirement of Arnold Schwarzenegger and, a year later, his successor, Columbu, the 1977 Olympia marked the dawn of a new era, and with his thoroughly modern peaks and valleys, the 1976 Mr. International and Mr. Universe seemed just the man to carry bodybuilding forward. Then Robinson slammed up against the Frank Zane era of streamlined aesthetics. The Black Prince won the "O"'s heavyweight class in '77, but Zane took the overall - in essence, an apples-or-oranges result.
Coming into the 1978 contest fresh off high-profile pro victories, Robinson was the early "O" favorite, but Zane took body detailing to a new level while Robinson, who again won the heavies, was not at his best.
Robinson entered the Olympia five additional times, but never bested his two initial placings. He did, however, win the inaugural Masters Mr. Olympia in 1994 and competed until 2001. Today, at 61, he is a personal trainer in Southern California.

MIKE MENTZER
(1979)
Fans of Mentzer swear that he deserved to be a two-time Mr. O, both in 1979, when he took a surprising fifth. (Boyer Coe was the lightweight runner-up in 1979.)
If the contrast between Zane and Robinson was great, it was doubly so between Zane and Mentzer, for the latter man's physique was all about roundness and thickness. The '77 storyline repeated in '79, this time with 27-year-old Mentzer - like Robinson, one year removed from a stellar amateur run - taking the Olympia heavyweight class but denied the overall by a more refined Zane. Just as with Robinson after '77, fans were certain Mentzer would bring home at least one Sandow, and he was favored at the very next "O". However, the results of the '80 contest were highly controversial, with Schwarzenegger winning and Mentzer, surprisingly, finishing fifth, when many believed he should've won. He never competed again, retiring at 28.
Espousing his high-intensity philosophy, he worked as a writer and trainer before his death of heart failure in 2001 at age 49.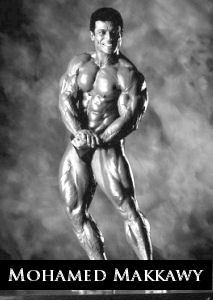 MOHAMED MAKKAWY
(1983, 1984)

Of all the Mr. O runner-ups, as well as its winners, no one ever displayed more grace and artistry than Egypt's Mohamed Makkawy.
At 5" 3" and 160 pounds, Makkawy remains the smallest man ever to place in the Olympia top four. After success as an amateur, including two overall Mr. International wins (1975, 1977) he had scant impact in the pros until he broke through with two Grand Prix wins in 1982.
Makkawy, like Zane, won with sculptured aesthetics, as his flawless symmetry and masterful poses made observers forget his height and weight. In 1983, he placed ahead of rookie Lee Haney four times, including at the Olympia, where he was second to Samir Bannout. In 1984, it was Haney who relegated Makkawy to "O" runner-up again.
After a fourth-place Olympia finish in '85, Makkawy retired at 32, near his peak. He made an unsuccessful comeback in the late 1990's and today, at 54, works as a personal trainer in Toronto, Ontario.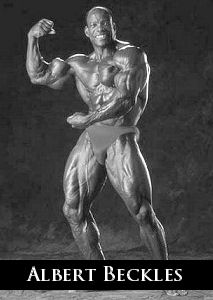 ALBERT BECKLES
(1985)
In 1985, Albert Beckles became the oldest Olympia runner-up ever at the age of 47. Amazingly, he continued competing in the IFBB for another seven years.

Like Makkawy, Beckles struggled in the pros for years before perfecting his conditioning in the '80s. Starting in 1975, he competed in the Mr. Olympia seven times before try number eight in '85 produced a runner-up finish to Haney.
The ludicrously lean Beckles was 47 (if as, according to most sources, he was born in 1938), making him the oldest man ever to finish in the top two at the Olympia. He subsequently competed in the "O" five additional times before hanging up his posing trunks - so to speak - in 1992.
Today, Beckles is a personal trainer in Southern California.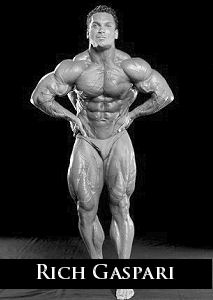 RICH GASPARI
(1986, 1987, 1988)
A former training partner of eight-time Mr. Olympia Lee Haney, Rich Gaspari proved to be Haney's most formidable foe for three consecutive years.
The interesting thing about many of those on this list is the contrast in physique types between them and the Mr. Olympias they couldn't defeat. This was certainly true of Gaspari, who placed second to his former training partner, Haney, three years in a row.
Not blessed with Haney's 5′ 11" X-shaped structure, Gaspari nonetheless maximized his potential, filling out his 5′ 7" frame with as much veiny, striated mass as he could muster. He burst onto the scene at 21, winning his class at both the Nationals and the World Championships, before making a similar impact his rookie year in the pros (second in his first show, 1985 Night of Champions, and third in his first Olympia).
Over the next three years, when he was 23-25 and earning first-place checks in other contests, only Haney stood between Gaspari and the Sandow.
He competed until 1996, and today, at 44, is CEO of Gaspari Nutrition.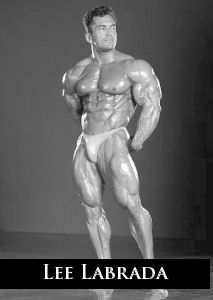 LEE LABRADA
(1989, 1990)
Lee Labrada's perfect proportions and stellar conditioning were nearly enough to overtake Haney twice, despite the challenger's five-inch height deficit.
Near the end of Haney's eight-year reign, another short bodybuilder with another very different physique type landed in the runner-up spot. With his perfect proportions, Labrada was one of the most consistent competitors ever to grace a stage.
In 24 pro contests over nine years, he placed out of the top four only in his last one, when he landed in fifth. You always knew what you were getting with the 5′6" Labrada: a classical physique flowing into classic poses - a bigger Makkawy, if you will.
Like the three men who preceded him on this list, Labrada had the misfortune of competing while Haney dominated. He subsequently placed third and fourth in Dorian Yates' first two Olympia wins (1992, 1993) and retired from the stage in 1995.
Today, at 48, he is CEO of Labrada Nutrition.