TalkAdmin/MuscleMecca
Staff member
Staff
Member
Joined

May 27, 2010
Messages

5,057
Points

63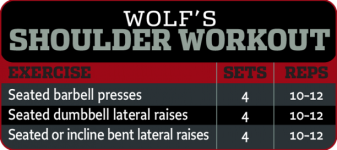 Dennis Wolf
Based on everyone's comments, my shoulders [full workout below] are one of my best muscle groups," says Dennis Wolf, third place finisher at the 2013 Mr. Olympia.
A lot of that development is probably due to my focus on isolating my deltoid caps, so that they have to do all of the work of lifting the weight, without much assistance from my traps, triceps or back. I also strive to eliminate any kind of momentum during a lift.
My secret for accomplishing such isolation is to do nearly all of my shoulder exercises seated, to prevent any rocking or momentum in any other part of my body. This also fixes the angle of my body, so that each repetition stays focused on the precise part of the deltoid that I want to hit. To further ensure that the stress remains in my delts, it's also necessary to keep my chest out and my head aligned with my upper body; if I let my head drop forward, the stress can tend to shift from my deltoids to my traps.
For laterals, I make sure not to swing my arms out, but instead flex my delts to raise the weight up, getting a peak contraction squeeze at the top. Repping like that builds an amazing burn.
Posted at
Flex